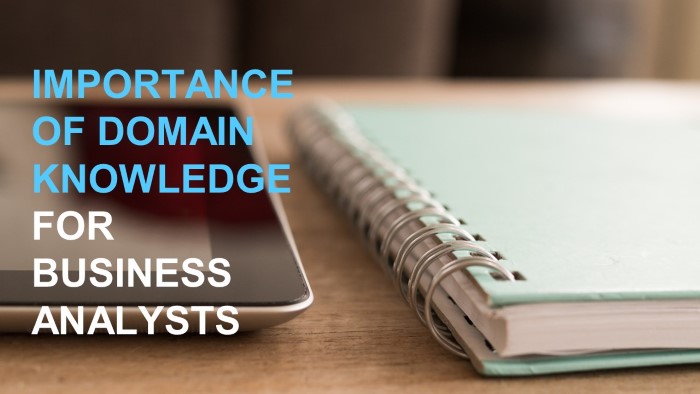 Importance of domain knowledge for a Business Analyst
How important is domain knowledge for a business analyst? Let's examine this in this post. I am going to look at the domain knowledge from at least two perspectives:
What is the level of expertise needed?
Is it a pre-requisite to start as a business analyst?
I am also going to leave you with some resources to learn basics of a few domains.
What is domain knowledge?
Domain is a specified sphere of activity or knowledge.
The literal/dictionary meaning is very clear and obvious. In the IT industry, the domain knowledge is used to refer to the knowledge and understanding of the business sector or specific business process of a project/product.
So, a domain could be Banking, Insurance, Trade finance at a higher level or could be retail lending process, funds transfer at a more specific level. A domain knowledge refers to the understanding of the specific domain area. So, what does it include?
Understanding of the of the sector/industry/segment
Understanding of the key concepts/vocabularies
Understanding of the business processes
Understanding of the implementations and its challenges
For example, If you would like to be good at understanding retail banking, you need to understand the following, for example:
Customer acquisition, cross-selling and up-selling
Unified customer view
Retail banking operations like account opening, funds transfer, deposits etc
The back end processes
Integrations with external entities like bank transfer, SWIFT payments etc
Which domains are relevant and important for IT industry?
Some of the important sectors for IT industry and for business analysts are as follows:
Banking, Financial Services and Insurance (BFSI)
Manufacturing
E-Commerce
Internet Services (Online apps for travel, cab booking etc)
Telecom
The importance and relevance is based on the simple fact – Which of the industries provide substantial business to the IT industry. BFSI (Banking, Finance services and Insurance) has always been the top sector for several decades.
Why it's important for Business Analysts?
Let's consider the scenario of working in BFSI domain as a business analyst or for that matter Telecom or healthcare? As a BA, you need to interact with the customer to understand the business needs/requirements.
During the requirements discussions, the customer will be stating their expectations in a language, which will comprise of:
Domain specific terminologies
Process steps specific to the project
Example: You are discussing the funds transfer process for developing a mobile banking application for an India bank. You may come across the following statements:
The funds transfer happen through NEFT, RTGS, UPI and IMPS using the RBI and NPCI infrastructure. Once the beneficiary is added and approved, our customer can initiate the funds transfer. These transactions are carried out the NPCI/RBI networks. The confirmation is then given to the beneficiary. Each of these networks may have specific formats for carrying out transactions
There is no way, customer is going to explain you (and you should not even ask them) the meaning of NPCI, NEFT, RTGS etc and how do they work? If don't have a clue of these terms, you may miss out many important aspects as you may not be able to related to them (or may not be able to understand the importance).
The domain knowledge is important for business analysts, because this enable you to
Understand not only the stated needs but also the unstated ones as you understand the process and concepts
Value add by suggesting improvements, thereby improving your credibility. (This comes with experience)
Level of domain expertise for business analysts
As an entry level business analyst, you are not expected to possess domain knowledge. Understanding of requirements capturing techniques, UML modelling, requirements analysis and SRS/FS understanding are more important as an entry level business analyst. However, it is always an added advantage to have basic understanding of a domain like Banking, Insurance etc.
However, as a practicing business analyst, domain knowledge becomes important. Domain knowledge and expertise grows with experience and number of projects (of that domain), you are part of. This is a hard to replace expertise and enables you to gain more and more credibility as a professional.
A pertinent point is to consider is – specialization Vs generalization. Do you need to be an expert in one domain or you should be a generalist having broad level understanding of multiple domains. Well Jury is out on this one and it will purely depend on the business scenario. Specialization is good if the growth opportunities in that domain is substantial. One such example is banking domain.
However, generalization is like Jack of all trades and it's pretty useful in downturns as it improves your chances of being relevant always.
Domain Basics Resources
I have selected a few resources, which you can use to learn basics of some of the domains. It is by no means the complete list:
Khan Academy –
A comprehensive course on basics of banking series. There are multiple videos in this playlist. You can watch it here.
Investment banking basics
An animated and short video. You can watch it here.
Insurance Basics
A simple explanation of insurance industry. You can watch it here.
Another insurance fundamentals video. You can watch it here.
Types of life insurance
A nicely presented video on types of life insurance. You can watch it here.
Health Insurance basics
Basics of health insurance. An animated video. You can watch it here.
About Techcanvass
Techcanvass offers IT certification courses for professionals. We specialize in Business analysis and automation testing courses.
We are an IIBA endorsed education provider (EEP), iSQI ATP (for Certified Agile Business Analyst Training) as well as Agile Testing alliance partner for CP-SAT certification training in Selenium.
We have a Business analyst training course with domain training in-built into it. This training program offers you the opportunity to get certified with ECBA certification as well as have banking domain understanding.
We also offer other domain training courses for business analysts. Here is the list.
Business Analyst training with Insurance Domain (Coming up)