Last few years have seen emergence of this specialized role called Business Analysts. They are entrusted with the responsibility of translating business requirements into technical requirements, this way we are trying to address one of the major problems, IT industry is facing for a long time.
In line with the growing importance of business analysts, the salaries have also seen a rise. We are going to have a look at the average salaries of entry level and senior business analysts. We will also look at the factors, which influence the salaries.
We looked at the data from Payscale, Glassdoor and IIBA for various levels. Broadly speaking, there are three levels for Business Analysts:
Business Analyst – Entry level (MBAs or IT professionals with 2-3 years of experience)
Senior Business Analyst – Mid-level (4-7 years of experience)
Lead Business Analyst – Senior level (upto 10 years of experience)
The salary range differs quite a bit amongst companies. This report, from NaukriHub, shows that the annual salary for entry level business analyst at Mu Sigma is INR 3,46,176 whereas the same at Cognizant is INR 7, 49,091.
Another important aspect about the salary is the domain expertise. Payscale, in this report, points out that expertise in Banking and Requirements Analysis has significant impact on the salary for mid-level business analysts. This report also points out that most of the Business Analysts change their profiles after 10 years (for Entry level Business Analysts), whereas Senior Business Analysts change their profiles after 20 years.
Payscale.com shows the entry level salaries to range from 2.2 lakhs to 8.1 lakhs. It also states that the salaries varies largely because of experience levels. As per payscale, the mid-level BA salary is as shown below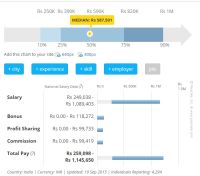 Glassdoor, on the other hand, shows the average salaries to be INR 5,50,000/- as national average, which is very close to Payscale data.
The scenario is little different in the consulting companies like KPMG, Deloitte and E&Y. This report shows that, these companies pay a little higher than Indian IT counterparts. A snapshot is presented below:
To conclude, it seems quite obvious that Business Analysts do enjoy a better salary package in the IT industry as compared to some of the other profiles. It's also quite apparent that Business Analysts will be in demand for the coming years
Cheers