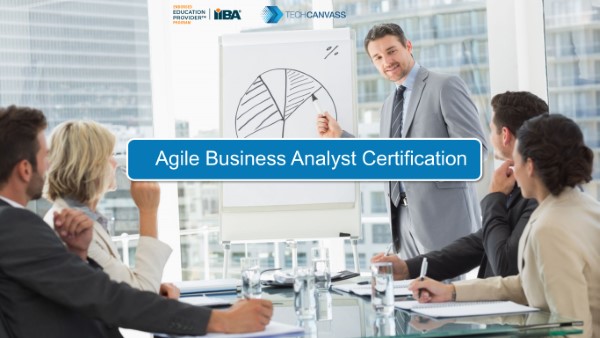 IIBA Canada has announced the launch of a new certification – Agile Business Analyst, named as Agile Analysis Certification (AAC). This is a welcome move by IIBA and was eagerly awaited.
New Agile business analyst certification by IIBA
International Institute of business analysis (IIBA) is one of the most reputed organizations engaged in the promotion and certification of business analysis practice. Their ECBA, CCBA and CBAP certifications are already well respected in the IT industry.
This new certification on Agile business analysis will be known as Agile Analysis certification (AAC).
What does IIBA say about this AAC certification?
Central to the value business analysis provides to organizations, this new certification focuses on the core competency of business analysis: ANALYSIS when it is practiced in an agile context.
This new certification goes beyond the roles in common agile iterative approaches such as Scrum, Kanban, etc., and is based on the Agile Extension which was developed in collaboration between IIBA and the Agile Alliance. The Agile Extension applies effective business analysis with an agile mindset and a constant focus on delivering business value.
IIBA Agile Analysis Certification will recognize individuals who have mastered application of the seven principles of agile analysis across the three planning horizons: Strategy, Initiative and Delivery.
Pre-requisites for this Certification
There are no eligibility criteria for this certification. This means that any one can go for this certification. Obviously, this puts it in line with ECBA certification, IIBA recommends it for
BA professionals with 2-5 years of Agile related experience

Agile practitioners with 2-5 years of experience
Agile Extension guide to BABOK
This certification aligns with the Agile Extension to BABOK guide. This guide was developed by IIBA in association with Agile Alliance. Currently the guide is in version 2. You can find more about Agile Extension guide at IIBA website.
You need to be a member of IIBA to get the version 2 of this guide. However version 1 of Agile Extension can be downloaded from here.
What is the IIBA AAC Certification Exam format?
The examination format for Agile Analysis certification (AAC) is going to be multiple choice (MCQs) just like other IIBA Certification exams.
The duration of AAC exam would be 2 hrs and there will be 85 questions.
How can I take this AAC exam?
You can take the AAC certification exam from home just like ECBA Certification exam and will be most probably conducted by the organization, which is conducting ECBA Exam. You just need to have a video camera and internet connectivity in your PC/Laptop.
What is the AAC certification fees?
The Agile analysis certification examination fees for members would be USD 250 and for non-members it would be USD 375. This certification needs to be re-newed every 3 years and there will be a fees of USD 85 and USD 120 for members and non-members respectively.
A discount of 20% off the first exam fee will be provided to early adopters. Watch this space for more on this….
Other Agile Business Analysis Certifications
iSQI, Germany also offers a similar certification known as Certified Agile Business Analyst (CABA). Techcanvass is an authorized training centre and offers Live online and self-paced courses for CABA certification.  You can find more information about this course here.
SCRUM product owner (CSPO) certification is also on similar lines. However it is specific to Scrum methodology and does not include other Agile methodologies. So in a way, it restricts the scope for a business analyst.
You can find more details here:
Certified Scrum Product owner (CSPO) by Scrum Alliance
Professional Scrum Product Owner (PSPO) by Scrum.org
When is IIBA-AAC getting launched?
This certification is expected to get launched in May 2018.
Watch this space for more details and the course details.
About Techcanvass
Techcanvass offers IT certification courses for professionals. We are an IIBA endorsed education provider (EEP), iSQI ATP (for Certified Agile Business Analyst Training) as well as Agile Testing alliance partner for CP-SAT certification training in Selenium.
We have a Business analyst training course with domain training in-built into it. This training program offers you the opportunity to get certified with ECBA certification as well as have banking domain understanding.