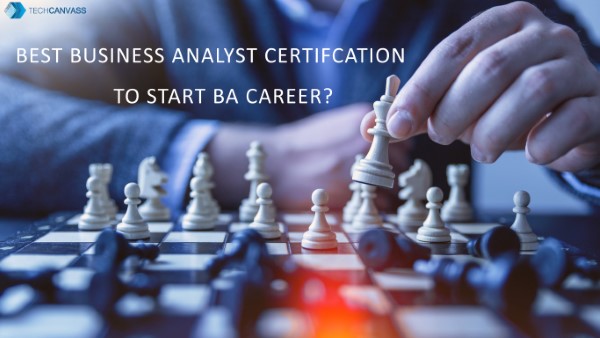 Vinita Jain has asked me the following question:
I am a marketing professional and have 5 years of experience. I would like to get into business analysis role as I feel I have the analytical power & strong communication skills. I know about this profile through couple of my friends, who are working as business analyst? My question is?
Which is the best business analyst certification to start my BA Career?
This is a commonly asked question. Every business analyst aspirant would like to know about it. In this post, I am going to answer this question – Which is the best business analyst certification to start my BA Career?
Here is a list of business analyst certifications suitable for becoming a BA:
Entry Certificate in Business Analysis (ECBA) from IIBA
ECBA+ from IIBA
Foundation level certifications from BCS
Practitioner level certification from BCS (you only need to clear the Foundation level)
Agile BA from APMG International
Top criteria for selecting the Business analyst certification
You should choose a certification based on the following two reasons:
The Industry Recognition
An industry recognized certification will help you in getting shortlisted, when you apply for a job. It's important to note that certification alone does not ensure a job. But it does help in differentiating your resume and that helps in getting shortlisted.
You can find some of the business analyst interview questions with answers on our blog.
Skills Development
Getting shortlisted is just the first step (a foot in the door). But, You need to clear the business analyst interview to start your BA career. You will need to answer business analysis skills related questions. So, choose a certification, which also helps you in learning & developing key business analysis skills.
So which are the key business analysis skills for starting a BA career? Some of them are:
Requirements Elicitation & gathering techniques
Preparing Requirements Specifications document
UML Modelling Technique
Agile project & requirements handling in Agile Porjects
SQL Basics
So find a course (for certification preparation) and Training Institute, which fulfills both the criteria. The program must enable you to not only cover certification syllabus but also cover the BA skills, as mentioned above.
International Institute of Business Analysis (IIBA) is a Canada based organization and is one of the most reputed certification organizations. IIBA certifications have an industry-wide recognition. Entry certification in business analysis (ECBA) was launched in September 2016. ECBA+ is going to be launched soon (as of May 2018).
These two certifications are for anyone, who wishes to become a business analyst. You can find more information at IIBA ECBA Certification Page. The only eligibility criteria is to have 21-hrs of PDUs from an IIBA endorsed education provider like Techcanvass.
Why should you choose this certification?
For the simple reason that IIBA is the most widely accepted BA certification organization.
British Computer Society Ltd is a UK based certification organization. It's one of the oldest organizations and is widely recognized in Europe. They have foundation level and practitioner level certifications. Foundation level certification has no eligibility criteria, whereas practitioner level certification needs you to clear foundation level first.
If you are working in the IT industry (but not necessarily as a BA), you can go for practitioner level certification.
Why should you choose this certification?
If you are targeting UK, France or other European countries, then this is the best business analyst certification. BCS is well recognized there and may be even a better option than IIBA. The downside the is the course coverage and lack of training partners across the world.
APMG International is also a UK based certification and accreditation organization. It has partnerships with many other organizations like BCS & Exin. Agile business analyst certification is becoming more and more popular because of growing adoption of Agile methodology.
APMG has two levels of certification. There is no eligibility for foundation level certification. You need to clear the foundation level to become eligible for practitioner level.
Why should you choose this certification?
You can go for this certification if you are looking for a specific Agile business analysis certification.
Conclusion
IIBA ECBA is the certification of choice and is the best bet. However, if you are looking for employment in UK or other nearby European countries, BCS is a better bet.
Business analyst certifications at a glance
Here is a table showing the key aspects of these certifications.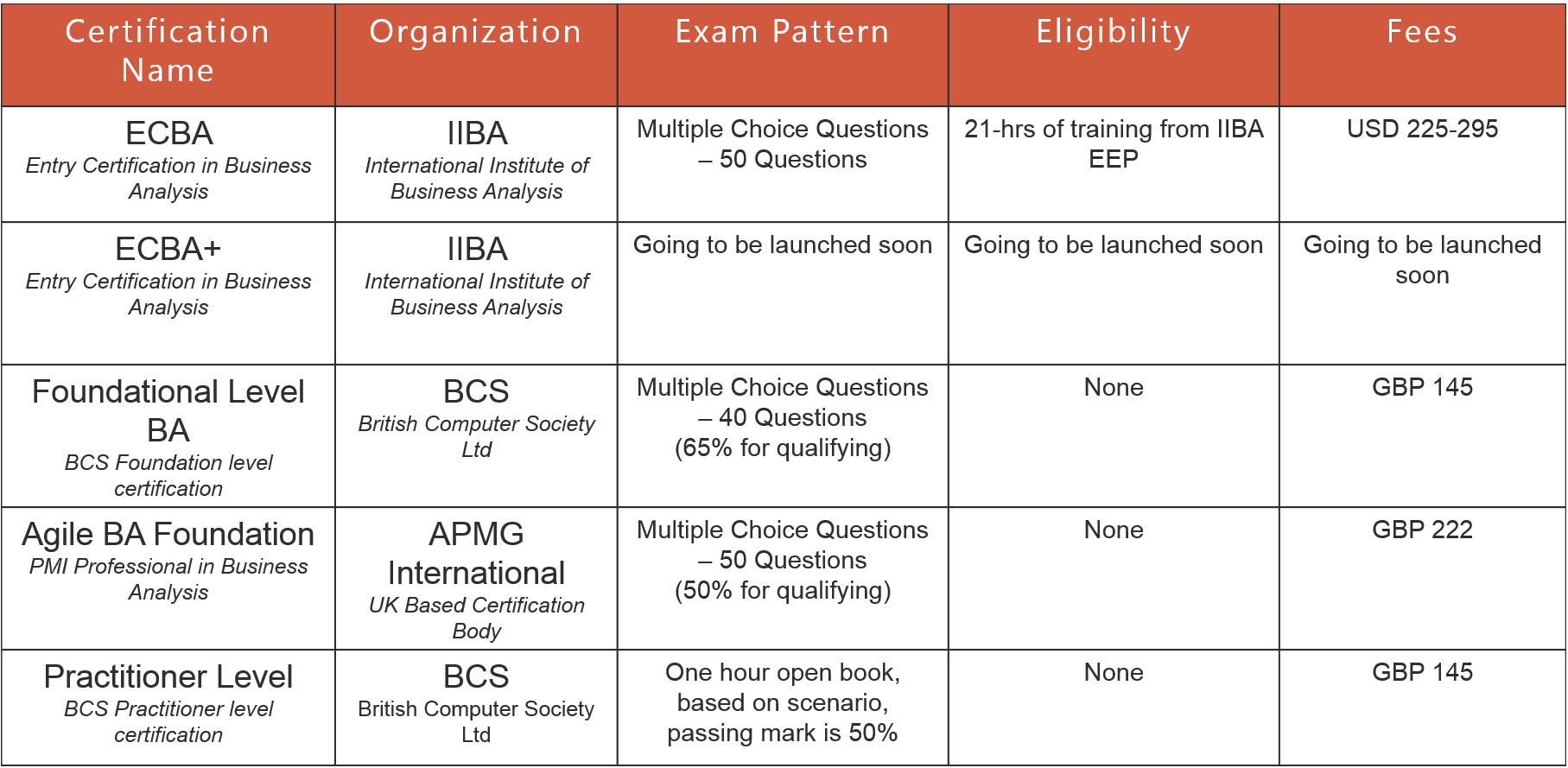 About Techcanvass
Techcanvass offers IT certification courses for professionals. We are an IIBA endorsed education provider (EEP), iSQI ATP (for Certified Agile Business Analyst Training) as well as Agile Testing alliance partner for CP-SAT certification training in Selenium.
We have a Business analyst training course with domain training in-built into it. This training program offers you the opportunity to get certified with ECBA certification as well as have banking domain understanding.