Business Analysis in Agile context and initiatives has gained significance in the last decade as more than 90% of the change initiatives are adopting Agile approaches. How do we practice Agile business analysis? In this article, we will provide a quick overview of the seven principles for agile business analysis as per Agile extension guide v2 to BABOK.
Seven Principles of Agile Business Analysis
1. See the whole
2. Think as a customer
3. Analyse to determine what is valuable
4. Get real using examples
5. Understand what is doable
6. Stimulate collaboration and continuous improvement
7. Avoid waste
The info-graphic below describes each of the principle of agile business analysis in detail.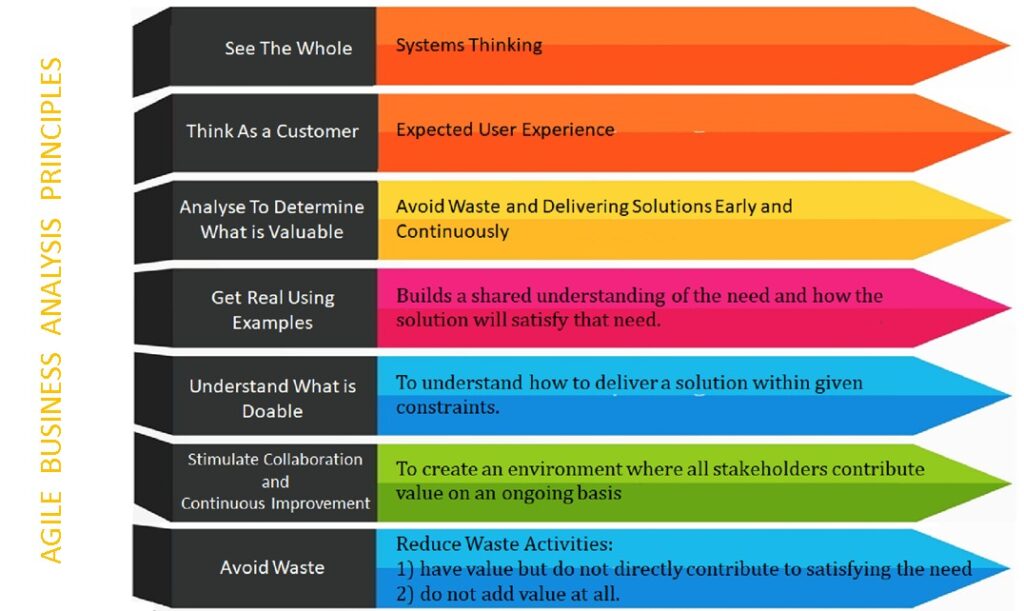 The above info-graphic explains the 7 principles in detail. Agile mindset is a foundation for agile business analysis. It is based on a common core of human values that include respect, courage, collaboration, continuous learning, customer focus and value maximization.
About Techcanvass
Techcanvass is an IT training and consulting organization. We are an IIBA Canada Endorsed education provider (EEP) and offer business analysis certification courses for professionals.
Techcanvass offers two Certification courses to help you get certified as an Agile Business Analyst.
Agile analysis certification (AAC) is an IIBA certification for Agile business analysts. Techcanvass conducts the preparation training for this certification. Techcanvass is a premier level IIBA Partner and offer Agile Analysis (AAC) certification. More details:
https://techcanvass.com/Courses/Agile–Certification-Course-IIBA.aspx
The other course is in collaboration with iSQI, Germany
https://techcanvass.com/Courses/AGILE-business-analyst-professional-Training.aspx
You can also visit our Blog – https://businessanalyst.techcanvass.com/​ to access more articles & tutorials on Agile business analysis and IIBA Certifications.