Business Analysis in Agile context and initiatives has gained significance in the last decade as more than 90% of the change initiatives are adopting Agile approaches. How do we practice Agile business analysis? In this article, we will also provide a quick overview of the seven principles for agile business analysis as per Agile extension guide v2 to BABOK.
Seven Principles of Agile Business Analysis
1. See the whole
2. Think as a customer
3. Analyse to determine what is valuable
4. Get real using examples
5. Understand what is doable
6. Stimulate collaboration and continuous improvement
7. Avoid waste
The info-graphic below describes each of the principle of agile business analysis in detail.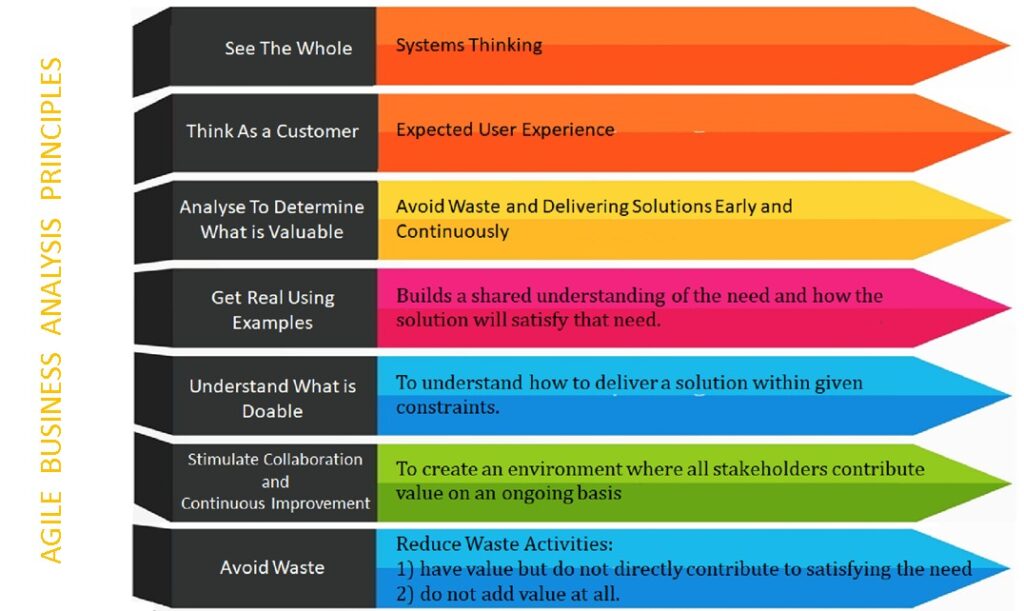 The above info-graphic explains the 7 principles in detail. Agile mindset is a foundation for agile business analysis. It is based on a common core of human values that also include respect, courage, collaboration, continuous learning, customer focus and value maximization.
Everything starts with agile mindset. for instance, It means readiness for new ideas to be adapted. Being agile prepares us for any kind of change. There can be multiple factors which change the context under focus i.e., changing need of the customer, changing organization structure, changing decisions due to new process introduction, or change in the external systems and so on. To embrace these changes and respond to them and see how to provide maximum value to the business is the benefit of Agile mindset.
Agile Business Analysis principles are applied by the business analysis practitioners in order to find opportunities to get maximum values for the need. These principles can be applied at all three planning horizons.
Let us go in little further details:
1.See the whole
This principle helps to see the entire system. It helps in analyzing the need in the context of the big picture. The focus is on understanding the business context and why a change is necessary. The principle inspires to analyze for systems thinking.
2.Think as a customer
The more you understand the customer the more you can empathize with the customer. When the analysis of the problem is done keeping yourself into their shoes, there are more chances to understand the need/problem and then reaching to solutions and alternatives. This principle helps the business analysis practitioners to start with high-level view of customers' needs and then decompose these needs into more detailed understanding.
3. Analyze to determine what is valuable
When you understand the degree of the values provided by the sub-needs, it will help you prioritize them better. This principle clears the doubt on 'size vs value' on the features when it comes to prioritization on similar user stories. Business Analysis practitioners continuously assess and prioritize work to be done. This allows them to maximize the value being delivered at any point in time.
for instance, The business analysis practitioners avoid waste by focusing only on what is absolutely valuable for the need. This may lead in order to maximizing the amount of work not done and reflect on undone user stories in Product Backlog. This leads to generate upcoming work for the team which is also a responsibility of an agile business analyst.
4. Get real using examples
Agile believes in living examples over theorizing stuffs. This principle also guides in building shared understanding of the need and how the solution will satisfy that need. Business Analysis practitioners use this principle to engage the stakeholders regularly by creating different models to elaborate on these models (for example personas, user actions, data etc.).
5. Understand what is doable
This principle guides in order to understand how to deliver a solution within given constraints. Constraints can also be derived from factors like technology, time, or resources. so, Understanding what is doable involves continually analyzing the need and satisfying solutions within the known constraints.
For example, a new requirement on an ongoing application development may not be feasible by the current technology platform in use. Or it may be dependent on certain key resources availability.
6. Stimulate collaboration and continuous improvement
Collaboration is one of the building blocks when we come to continuously changing agile environment. This is very important as it also keeps everyone aligned with the current context and relevant information. for instance, This principle guides business analysis practitioners in creating and contributing to an environment where all stakeholders contribute value on an ongoing basis.
A key aspect of the agile mindset is continuous improvement. The agile mindset brings continuous improvement to the solution and the underlying processes.
7. Avoid waste
Agile mindset agrees with lean concept. as a result This principle guides Business Analysis practitioners to avoid waste wherever possible.
All activities that fall into below categories are considered waste:
those that have value but do not directly contribute to satisfying the need
those activities that do not add value at all.
Business analysis practitioners also analyze thoroughly to focus working on only the value-add activities.
For example, agile doesn't advocate strict documentation, rather it suggests documenting when absolute necessary.
These principles are tightly integrated with agile mindset. for instance, Agile Business Analysis practitioners use these principles in day-to-day life to get maximum value for the customer.
About Techcanvass
Techcanvass is an IT training and consulting organization. We are an IIBA Canada Endorsed education provider (EEP) and offer business analysis certification courses for professionals.
Techcanvass offers two Certification courses to help you get certified as an Agile Business Analyst.
Agile analysis certification (AAC) is an IIBA certification for Agile business analysts. Techcanvass conducts the preparation training for this certification. Techcanvass is a premier level IIBA Partner and offer Agile Analysis (AAC) certification. More details:
https://techcanvass.com/Courses/Agile–Certification-Course-IIBA.aspx
The other course is in collaboration with iSQI, Germany
https://techcanvass.com/Courses/AGILE-business-analyst-professional-Training.aspx
You can also visit our Blog – https://businessanalyst.techcanvass.com/​ to access more articles & tutorials on Agile business analysis and IIBA Certifications.