This article will provide answer to the fundamental question – How to become a Business Analyst? This is the first question every BA aspirant has or should be having? Let me answer this with a step by step road map.
Who can become a Business Analyst?
Can you become a Business if you are from a non-IT background? Can you become a Business Analyst if you are a Sales professional? Can you become a business analyst if you are a relationship manager in a Bank.
The good news is that you can become a business analyst even if you are not an IT professional. IT industry does not discriminate any background as far as Business Analyst role is concerned.
Why Should you become a Business Analyst?
Business analyst is a much sought after career option and has a bright future. The growth forecasts and attractive salaries at entry levels make it a worthwhile career choice.

Note: Covid-19 has affected the World badly and will certainly have impact on every industry including the IT industry. The world has always bounced back from disasters and this is not going to be different. I am not an expert, but year 2020 has proven to be a bad year but 2021 will bring in the revival and we will bounce back.
How to become a Business Analyst – A step by step approach
Here are the steps you need to take to become a Business Analyst. Steps are similar for IT as well as non-IT professionals.
Note: This article is based on my book How to become a Business Analyst available on Amazon.
Step I: Conduct Skills gap Analysis
You need to evaluate your skills against the required skills for an entry level Business Analyst. Which are these skills? We have created CRAFT framework to map top 4 skills for becoming a Business Analyst.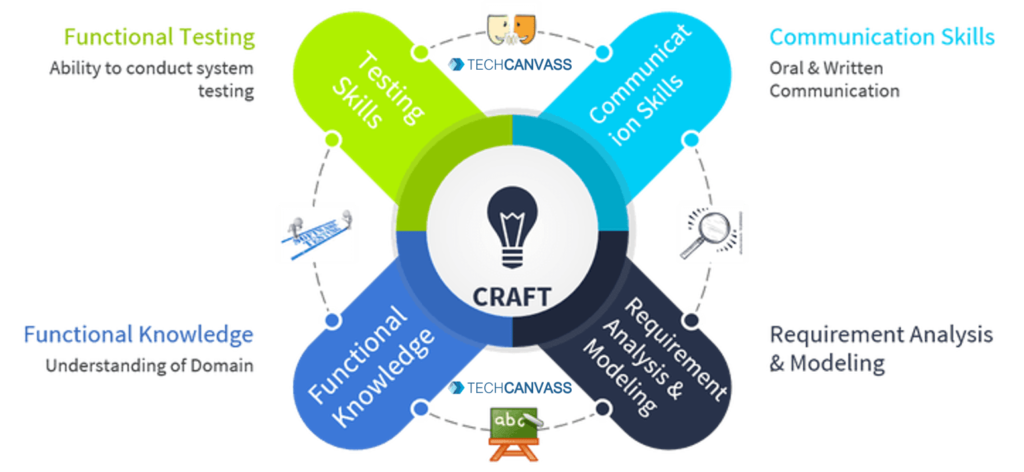 You can download this competency evaluation matrix to conduct skills gap analysis.
Step II: Plan to upgrade your skills
Once you have completed skills gap analysis, you would know the skills, you need to acquire the skills. Now it's time to determine the approach, you would like to take to acquire these. What do you need to consider:
Acquiring the business analysis skills
Acquiring the soft skills
Getting a certification
Your skills acquisition plan must include a certification. The most reputed entry level Business Analyst certification is IIBA ECBA Certification.
You can plan to go for a self-learning approach or an instructor-led training approach. Do keep in mind the gaps in your skills. Your learning approach must include those specific gaps. You can also read about the ECBA Preparation approach.
Timelines: Our experience suggests that you should plan for 100-110 hours of study to achieve your goal. So if you are working or having extra workload you need to plan accordingly. A 7-10 weeks plan works for most of the people.
Step III: Acquire Skills
Action time. The next step is obviously to get started and start learning. Focus on learning the concepts first and then apply to your area of work. That will help you in relating to the concepts better and will also lay the foundation for interview.
Also do practice and visualize. For example, Once you have learnt use cases, create use cases for your projects/area of work and get it checked. That will give you a lot of confidence.
Communication and presentation skills are also important. If you feel you need to improve in that area, it's a good time to work on that as well. Join a course.
Basically, you need to put in effort for all the skills to reach the desired level.
Step IV: Reshape your resume
Resumes are windows to you and your personality. Make it count. An employer looks at the resume first to evaluate you. A good resume will help you in getting shortlisted for the interviews.
What should your resume include:
Business analysis core skills (Refer to step 3)
Customer management/handling skills
Problem solving skills
Certifications
Instances/projects where you have used these skills
Build your LinkedIn profile as well. Employers look at your LinkedIn profile these days. Why should you have a LinkedIn profile?
Don't forget to provide the link for your LinkedIn profile in your resume. Upload your resume to the job sites and start applying.
Step V: Prepare for the Interviews
In software industry we use a term Dry Run. Dry run is used to refer to trials before actual go live day. You should also use dry run of interviews. Use couple of interviews as dry runs. Use the experience to assess your preparedness.
I always used these strategies while searching for jobs. Believe me it is very effective to prepare you for your best day.
All the best for your Business Analyst journey.
About Techcanvass
Techcanvass offers IT certification courses for professionals. We are an IIBA endorsed education provider (EEP), iSQI Germany Authorized Training Partner.
We offer Business Analyst, Data Analytics and Domain Certification Courses in Banking, Payments, Trade Finance, Insurance and US Healthcare.
You can read many articles on Business Analysis and Data Analytics in this Business Analysis blog.