What is BPMN? Why is it used? What are the elements of BPMN? You will find answer to all these questions in this post?
This post provides an overview of BPMN 2.0. A detailed discussion on BPMN will be covered in subsequent articles or videos.
Business Process Model and Notation (BPMN) is one of the most powerful process modelling languages. It uses symbols and notations to create visual models for business processes. In this article, we are going to look at an overview of BPMN.
What is BPMN?
"A picture is worth a thousand words"
"Fred R. Barnard"
Business Process Modelling Notation is popularly known as acronym BPMN. The concept of process modelling went through number of iterations. Let's have a brief look at the history.
BPMN was developed by Business Process Management Initiative and was taken over by Object Management Group later. BPMN 2.0 specification was released with latest set of symbols and notations in 2011.
BPMN is the visual language that bridges the gap between stakeholders' requirements and the workflow which includes actions events, activities, artifacts and connection between the objects. In short BPMN represents "Who will do What" in a business process.
BPMN Symbols and Notations
In this section, I will provide a brief description on the BPMN symbols and notations.
BPMN symbols can be categorized to three types namely: –
Events and Activities
Gateways
Connection Objects and Artifacts
Events and Activities
Events in BPMN are the stages as well as triggers in a process. There are three events:
Start Events
Intermediate events
End events
You can associate with these events as these have been traditionally part of process modelling. Remember flow charts. However in BPMN, these events also are classified the way they trigger an action. These triggers could be:
Catching and throwing events: Catching event is an event which reacts to a trigger (they start once the trigger is fired). A throwing event is triggered by the process and catches an event.
Interrupting Vs non-Interrupting events: An interrupting event is an event which stops the current task. The flow continues along a new path. A non-Interrupting event is an event which does not stop the process from going further.
Here are the symbols used to represent events and activities.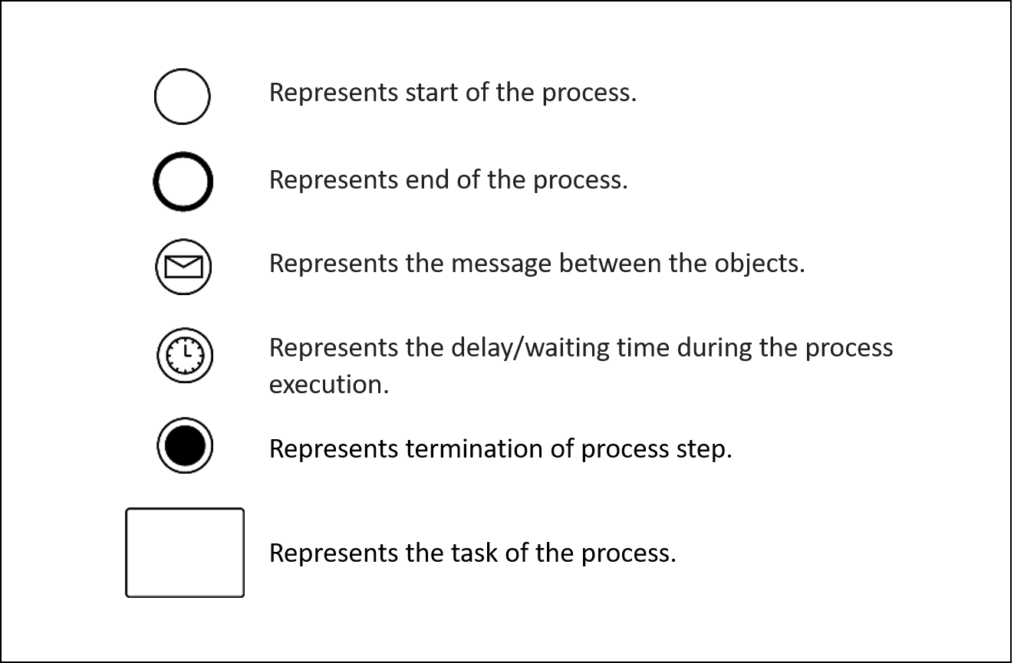 Gateways
Gateways are one of the most important features of BPMN 2.0. The OMG's BPMN 2.0 specification describes gateways as:
Gateways are used to control how the Process flows through Sequence Flows as they converge and diverge within a Process. If the flow does not need to be controlled, then a Gateway is not needed. The term "gateway" implies that there is a gating mechanism that either allows or disallows passage through the Gateway.
In a process flow gateways work as gatekeepers. These behave as decision boxes in flow charts and activity diagrams broadly. It enables us to show control on the execution path. The execution paths can be parallel or can be mutually exclusive.
There are seven types of gateways used in BPMN 2.0. All the gateways symbols are diamond shaped are shown below: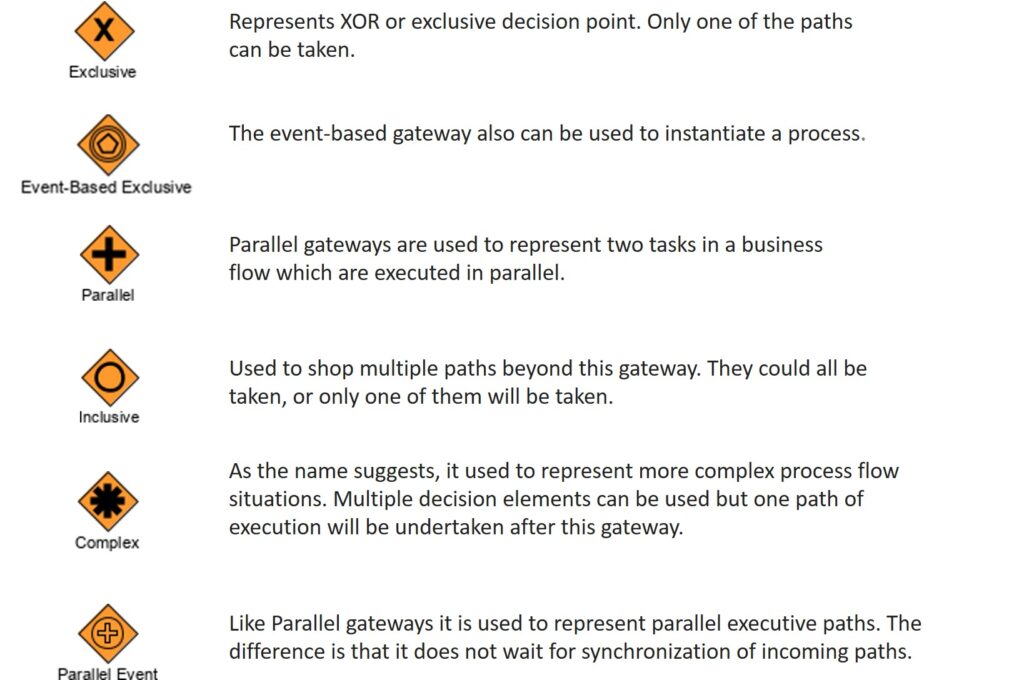 Flow and Connection Objects
BPMN 2.0 Flow symbols are used to help in representing a complete process flow. Connectors that connect the flow elements are called connecting objects.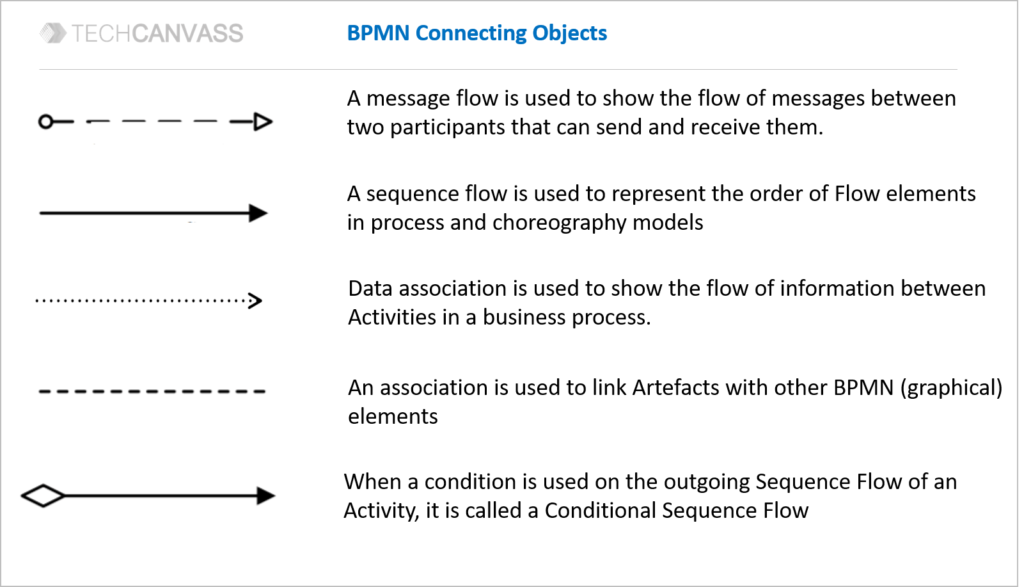 BPMN Example
Lets put together the BPMN symbols and notations to create a simple process flow.
Example process: The Login Process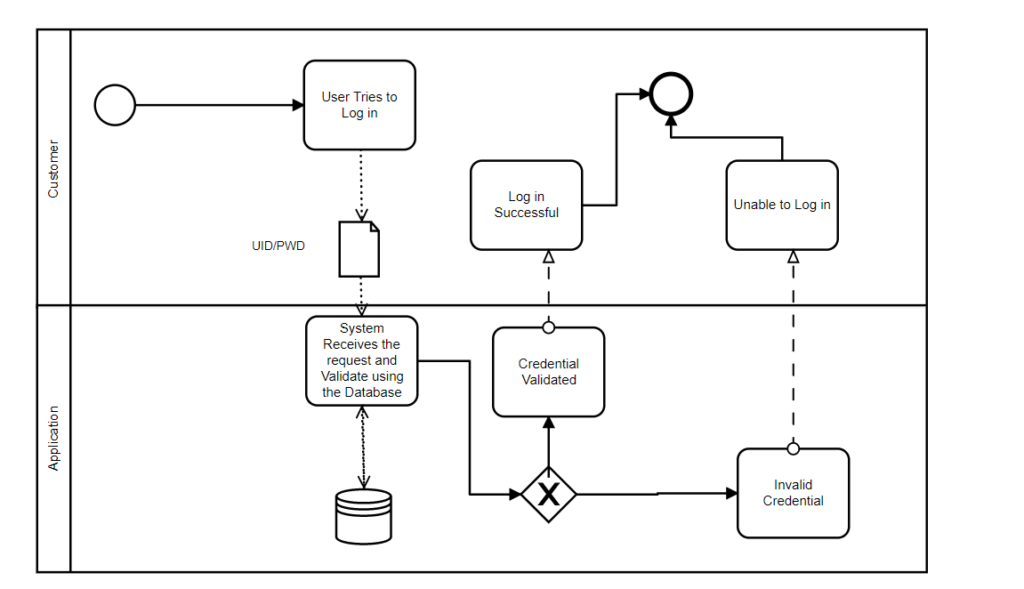 Object management group (OMG) has published a good tutorial titled BPMN 2.0 Examples.
About Techcanvass
Techcanvass offers IT certification courses for professionals. We are an IIBA endorsed education provider (EEP), iSQI Germany Authorized Training Partner.
We offer Business Analyst certification courses, Data Analytics and Domain Certification Courses in Banking, Payments, Trade Finance, Insurance and US Healthcare.
You can read many articles on Business Analysis and Data Analytics in this Business Analysis blog.