Introduction to Business Analysis Body of Knowledge (BABOK) Guide
This article provides an introduction to Business Analysis Body of Knowledge (BABOK) Guide. BABOK guide is the official guide for all IIBA certification examinations for business analysts. It's a comprehensive guide for understanding the business analysis practice.
IIBA has announced 4 levels of business analyst certifications from 30th September, 2016. BABOK Guide v3 is the reference guide for all these levels of certifications. If you would like to know about the level 1 certification, you can visit the following post.
What's there in BABOK® Guide v3? How is it structured? What is the coverage for ECBA Certification? This article will help you get answers to all the above questions.
BABOK® Guide Architecture
What is the architecture of the BABOK® Guide? The guide comprises of five key elements. These elements are:
Core Concepts
Knowledge Areas and Tasks
Underlying Competencies
Techniques
Perspectives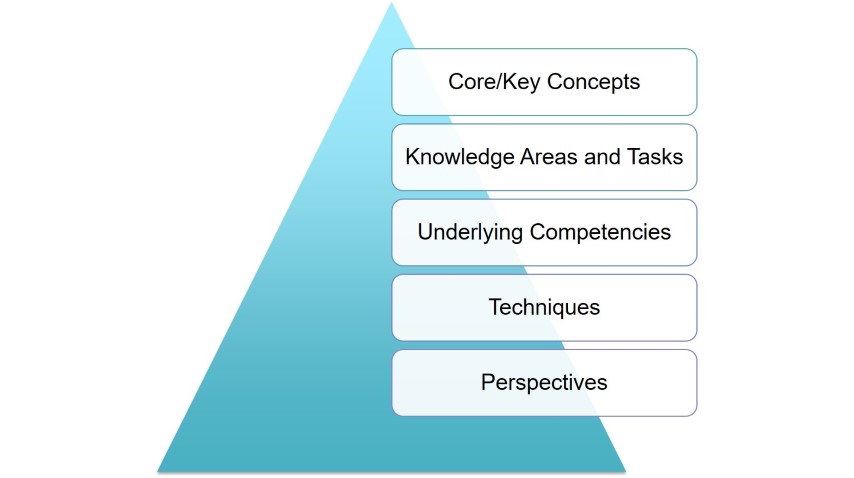 Let's look at each of these elements.
Core Concepts
Core concepts are the pillars of the business analysis body of knowledge (BABOK). The business analysis practice, as described in the BABOK guide is based on these core concepts. These core concepts are part of business analysis core concepts model (BACCM) as shown below.

We are going to discuss the business analysis core concepts model in our next blog post. Keep watching for this space.
Knowledge Areas & Tasks
The business analysis practice has been divided into six knowledge areas. These six knowledge areas cover the entire business analysis work areas. Each of these knowledge areas are further divided into tasks, which are doable tasks. BABOK guide describes the tasks for each knowledge areas in a structured and systematic manner. For example:
Knowledge area 4 elicitation and collaboration has following tasks defined in BABOK:
4.1 Prepare for elicitation
4.2 Conduct Elicitation
4.3 Confirm elicitation results
4.4 Communicate business analysis information
4.5 Manage stakeholder Collaboration
Furthermore, each of the tasks has been discussed in details with input, output, guidelines, tools and techniques.
Underlying competencies
As per BABOK Guide:
The Underlying Competencies chapter provides a description of the behaviors,
characteristics, knowledge, and personal qualities that support the practice of
business analysis.
The competencies, defined in the guide are generic competencies and are applicable for other professional areas as well. The competencies have been divided into 6 categories like analytical thinking and problem solving, communication skills, interaction skills etc.
As you can make out, these competencies may apply to other professional areas as well.
Techniques
The guide enlists techniques for each of the tasks under knowledge areas. A business analyst can use these technique to accomplish the tasks. The guide has picked up the most used and common techniques. Further to that, BABOK guide states that:
Business analysts apply their experience and judgment in determining
which techniques are appropriate to a given situation and how to apply each
technique.
Perspectives
Perspectives is one of the core concepts, which provides focus to the business analysis activity for each project. For example, AGILE is one of the perspectives indicating that the business analysis activities have to be applied and used with AGILE perspective rather than a traditional project perspective.
Brief Video on Introduction to BABOK Guide
This is a brief video, where I explained the BABOK architecture to class recently.