Are you a Business Analyst and are considering CBAP Certification? Is CBAP worth it? What is The Value of CBAP Certification for your career? In this article, I am going to answer this question.
IIBA awards Certified Business Analysis Professional (CBAP) Certification. Business Analysis practice and profession are relatively young as compared to Project Management.
For instance, As a Business Analyst professional, how does a CBAP Certification help you? What do certified professionals say? Let's examine some of these aspects.
Note: I have also used some data from IIBA Salary Survey 2019, which is based on surveying 5,616 Business Analyst professionals from 129 countries.
What Does The Survey Say?
For instance, The survey indicates that the recognition and demand for certified professionals are growing. As a result, Even Enterprises are mandating the acquisition of certifications. Some crucial data from the survey:
Business Analysts who hold one or more IIBA Certifications earn 14% more than non-certified BAs
Specifically, Business Analysts who hold CBAP Certifications earn 19% more than non-certified BAs
Top industries that employ BAs are IT, Finance/Insurance, Government and Public Sector, Services, and Healthcare/Social Services. It indicates demand in multiple sectors and not only from IT.
Till Jan 2020, the total number of CBAP Certified professionals is 10,000+, and that's a healthy growth from the previous year.
What Do Certified Professionals Say about The Value of CBAP Certification?
The survey also asked the respondents how the certification has helped them. What do they feel about the value of the certification?
The snapshot from the IIBA salary survey 2020 highlights the value, CBAP Certification offers to certified professionals.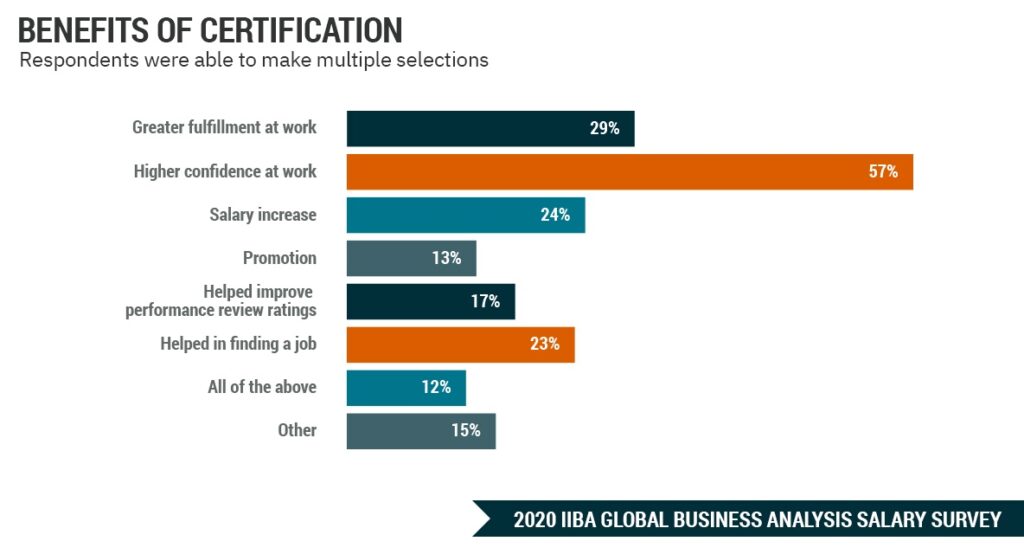 Please check out How Jahnavi Gunnam's Professional Life has Changed after Earning the CBAP Certification 
What is The Value of CBAP Certification?
You have also seen the data from the IIBA salary survey. Now, let me provide 3 key benefits of this certification in order to summarise:
1. CBAP Certification Provides Credibility to Your BA Profile
CBAP Certification has gained high credibility amongst employers and the Business Analyst community. The thoroughness and depth of knowledge required in order to clear this exam have added to its respect.
By obtaining this certification, you added credibility to your profile.
2. Earn Higher Salary Than Non-Certified Professionals
Data from Payscale, as well as the IIBA salary survey, clearly indicates that the CBAP Certified professionals earn higher than non-certified professionals. The credibility of CBAP Certification and IIBA are the primary reasons for this.
3. Gain More Confidence and Be Ready for Better Professional Career
I interact with many Business Analysts regularly. General Business Analysts with 6-10 years of experience seem to feel uncertain about their future.
That's because most employers prefer domain or functional Business Analysts as Senior BAs. The demand for General BAs reduces, making it more competitive.
A CBAP Certification (or even a CCBA) helps you in getting preference and providing you with better opportunities. It is a definite confidence booster and makes you better prepared for the future.
About Techcanvass
We are an IT Certifications Training Organization for mid-level professionals. We are also the International Institute of Business Analysis (IIBA), Canada Endorsed Education Provider (EEP). We offer Business Analysis Certification and Domain Certification courses.
Our CBAP Certification Training Program helps you in clearing the certifications on the first attempt.
The key features of our courses are:
IIBA Endorsed Courses for required PDs
Live Online and On-demand Courses
Mock Questions Practice Sessions
Doubt Clearing Sessions
Four-level Question Bank
CBAP Revision Guide
Mind maps, Flashcards, Crosswords, and Matchmaking