CBAP Exam Questions
Try these CBAP sample questions taken from our CBAP Question Bank. These questions are based on the CBAP v3 exam pattern and include questions based on scenarios and cases. You can see the answers and explanations after you finish the test.
Our CBAP Question bank is aligned with the latest edition of the BABOK and IIBA exam pattern. The CBAP question bank simulator comes with the following features:
Warm Up tests chapter-wise (Quick review when you read BABOK first time)
Drill Down Questions (For your second time BABOK reading, tougher questions than Warm-up)
Case Study-Based Questions (The case studies with multiple questions)
Full-length Simulations (When you score 70% consistently in Drill downs)
Detailed Analysis of each test with answer explanations
Performance report and trends
Report on Tests wherever you have scored less than 70%
Start CBAP Practice Exam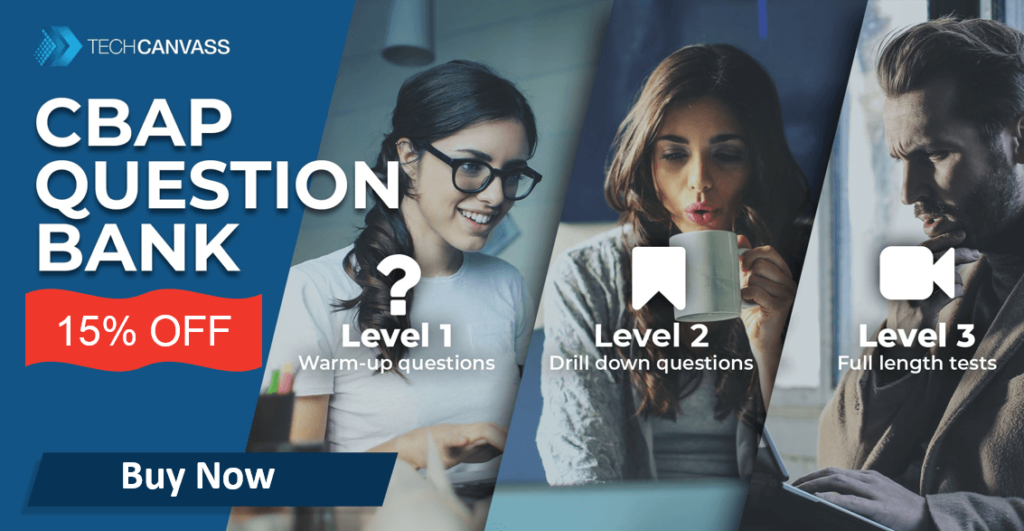 CBAP Question Bank from Techcanvass
The key features of our question bank are as follows:
4 levels of CBAP Questions.
Level 1 is the basic revision for each chapter (Warm up questions)
Level 2 is the drill-down set (scenario-based questions), which you configure for time and number of questions.
Level 3 is 25+ case studies on the CBAP Exam pattern with more than one question per case study.
Level 4 is the full-length simulation tests with 120 questions and 3.5 hours duration.
Detailed analysis after the test for answers and explanation
Reporting dashboard showing your overall progress
Reporting dashboard showing chapters/tests, where you are below the desired score
You can also check out our blog page to learn more about Certified Business Analysis Professional (CBAP).
About Techcanvass
Techcanvass offers IT certification courses for professionals. We are an IIBA Endorsed Education Provider (EEP), iSQI ATP (for Certified Agile Business Analyst Training) as well as an Agile Testing alliance partner for CP-SAT certification training in Selenium.
You can also check out more CBAP Question Bank or check out the CBAP certification course.