Business Capability analysis is conducted to assess the enterprise capabilities for various purposes. In this post, I am going to simplify the concept of Business capability analysis.
Note: It is one of the BABOK techniques and an important one for CBAP and CCBA aspirants.
What is a business capability?
Measure of the ability of an entity (department, organization, person, system) to achieve its objectives, especially in relation to its overall mission.

Source: The Business Dictionary
In simple terms, Capabilities represent what the business does (or needs to do) to fulfill its objectives and responsibilities.
Business capabilities are:Intangible assets that cannot be seen
They are different from processes
These are constant over time
These are constant over time
But most importantly, business capabilities help organizations create value and goodwill in the market.
Companies like Toyota, General Electric have not known for their size or turnover but the ability to innovate, the ability to deliver value continually over time.
Processes differ from Capabilities. Capabilities represent "WHAT" whereas processes represent "HOW". Processes represent transformations by taking in inputs and transforming these into outputs. Adding inputs and outputs to a capability implies a process.
Examples
Axin Info Inc is a software product company. It has a range of software products for the Oil and Gas industry. What can we say about its capabilities? The capabilities for Axin could be product support, product sales, etc. These capabilities enable Axin to achieve its business objectives.
A capability view for Axin info Inc is shown below: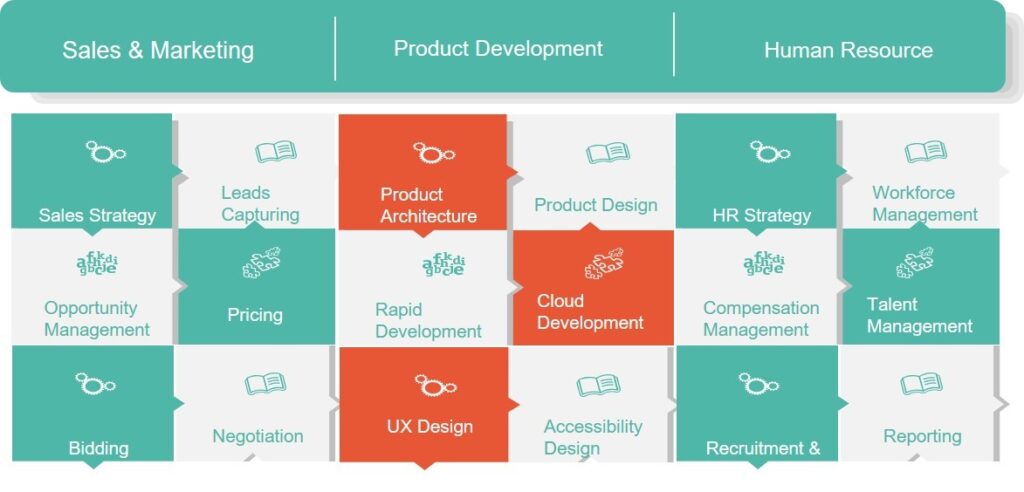 What can we say about processes? The answer lies in how does Axin offers product support? Axin has a dedicated help desk portal to offer product services. The customer logs in to the portal to raise a support ticket (Input) and the support engineer closes the ticket once the issue is resolved (output).
The capabilities are realized by a business process and performed by a role i.e. an individual or team in the organization.
What is Business Capability Analysis?
Capstera defines business capability analysis as the assessment of individual business capabilities and an integrated set of enterprise business capabilities model to evaluate their strategic importance, business process maturity, resource adequacy, level of IT support, and cost factors.
This assessment is conducted to evaluate if the current capabilities can help the organization achieve a business goal or objective. This analysis can help in understanding the adequacy of the existing capabilities. The gaps will need to be addressed.
Many change initiatives attempt to improve the performance of an existing business capability or deliver a new one so that business objectives are achieved. The businesses need to prioritize the initiatives for optimum utilization of resources.
The key elements which need to be considered while conducting business capability analysis are as follows:
Capabilities
We have already discussed this in the previous section.
Using Capabilities
Capabilities do not deliver value uniformly. Each capability will have different levels of value, and that needs to be considered while conducting the analysis.
Performance Expectations
Each capability is expected to perform at a certain level. If the capability is not performing at the expected level, the gap is identified so that it can be improved upon.
Risk Model
If a capability is not performing at the expected level, it is a risk for the organization. The new product effort may not be able to address the needs as expected. The common categories of risks are – Business Risk, technology risk, Organizational Risk, and Market risk.
Strategic Planning
Business capability analysis enables Business analysts to develop a change strategy. The capability maps and performance gaps help in the planning process to achieve the strategic goals.
Capability Maps
Capability maps are the outputs of the capability analysis exercise. The capability map is a visual model and shows the following elements:
The capabilities and the value delivered
Performance gaps
Associated risks
Case Study
Axin Info Inc is a software product company. It has a range of software products for the Oil and Gas industry. In the last couple of years, Axin has been growing rapidly and now has more than a hundred thousand users using its products. The rapid growth has also led to research and new product ideas. A new product was launched three months back. However, the response to this new product is not so great.
A business analyst is hired to help the organization in addressing this need. While conducting the strategy analysis, the BA creates a capability map to identify the capabilities gaps.
The capability map for Axin looked as shown below:

Customer relationship management is one of the capabilities shown in the map. It is crucial for Axin as it helps in leveraging existing customer relationships to see new products/services. So, the business value is marked as a high value.
It is also important for customers. An efficient customer relationship management means timely renewals and better customer service. Thus, customer value is also marked as a high value.
Axin does not have an integrated customer relationship management, so the performance gap is high.
The case study describes that the new product sale is not as expected. An efficient customer relationship management capability helps cross-sell (Selling new products/services to the existing customers). It is identified as a risk because of the performance gap (of not having the desired level).
About Techcanvass
Techcanvass offers IT certification courses for professionals. We are an IIBA endorsed education provider (EEP), iSQI ATP (for Certified Agile Business Analyst Training) as well as Agile Testing alliance partner for CP-SAT certification training in Selenium.
Techcanvass offers CBAP Course, CCBA Course, ECBA Course and Agile Analysis Certification (AAC) Course.