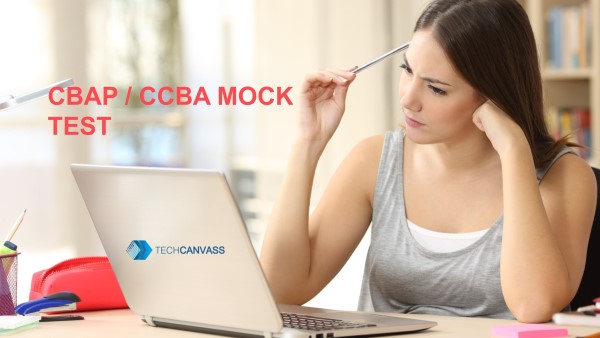 CBAP Exam Questions
This CBAP mock test comprises of 10 questions. These questions are drill questions, designed to test your understanding of the BABOK guide and knowledge areas. Our CBAP and CCBA Certification courses have drill questions as well as case study based questions for a comprehensive preparation.
About this CBAP Mock test
CBAP and CCBA certification questions use the vocabulary of BABOK guide and sometimes it can get overwhelming. So, it's important to imbibe the terms and concepts used in BABOK.
We have created these questions for our students to test the vocabulary and key concepts in BABOK guide.  This is a good way of getting ready for simulated tests.
This mock test is based on IIBA BABOK guide v3.
CBAP Test Simulator
Techcanvass has launched the CBAP question bank with simulator. Currently, introductory offer is available on the test simulator. Click on the link below to visit the website and avail the offer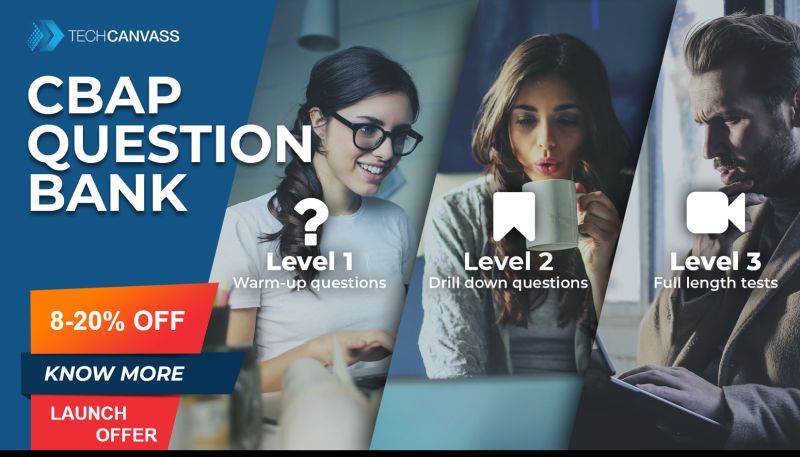 About Techcanvass
Techcanvass offers IT certification courses for professionals. We are an IIBA endorsed education provider (EEP), iSQI ATP (for Certified Agile Business Analyst Training) as well as Agile Testing alliance partner for CP-SAT certification training in Selenium.
We have a Business analyst training course with domain training in-built into it. This training program offers you the opportunity to get certified with ECBA certification as well as have banking domain understanding.