ECBA Exam Questions
The ECBA sample questions cover a range of topics related to the business analysis discipline, including
requirements elicitation and management,
enterprise analysis,
business analysis planning and monitoring,
and solution evaluation.
By taking this ECBA Practice Test, you can demonstrate proficiency in these areas, which can help you stand out to potential employers and advance your careers in the field of business analysis. Additionally, preparing for the ECBA exam can help individuals deepen their understanding of business analysis concepts and practices, which can improve their job performance and increase their value to their organization.
This ECBA sample mock test is based on the latest ECBA exam pattern. These questions are taken from our ECBA Question bank, which has more than 1000 questions. Each question has one correct answer. Click on the SUBMIT button to finish your test. Once you finish the test, you will find a detailed analysis of the test. This detailed analysis will have correct answers and explanations for the correct answer.
Start the ECBA Practice Test 
Don't leave your ECBA exam success to chance. Practice Knowledge-Area wise ECBA tests with ECBA V3 Exam Simulator Question Bank today, feel confident and prepared when you sit for the exam!
How our ECBA Question Bank can help?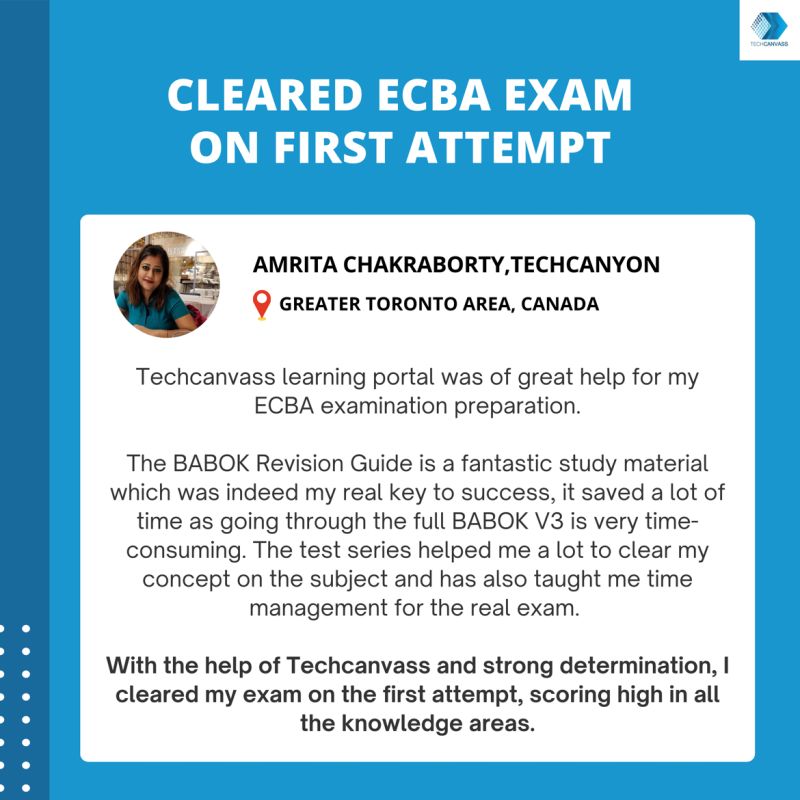 The key features of our question bank are as follows:
Chapter-wise questions for each chapter
6 Full-length ECBA practice tests (50 questions in 1 hour)
Detailed analysis with answers and explanation
Performance Analysis Dashboard
Exception reporting
About Us
We are an Information Technology certifications training Organization for professionals. We specializes in providing training and consulting services in a wide range of domains, including Business Analysis, Agile, Project Management, Data Analysis, Scrum, and more. This diverse expertise allows us to cater to the needs of professionals from various technology-related fields. We assist companies in optimizing their IT processes, adopting Agile, or Business analysis methodologies, and improving project management and delivery practices.