Business Analysis Core concepts Model
Business Analysis Core concepts Model (BACCM) is the core framework integral to BABOK Guide v3. Core concepts are fundamental to the practice of business analysis as defined in BABOK guide. IIBA BABOK v3 is the new version of BABOK guide for latest version of business analyst certifications. In this article, I am going to discuss the basics of business analysis core concepts model (BACCM).
You can directly go to the end of this blog post to watch a video on BACCM model, if you would prefer to watch video rather than reading the text.
What is Business Analysis Core concepts Model (BACCM)?
The business analysis core concept model is a set of 6 concepts which define the business analysis practice as per IIBA BABOK v3. The six core concepts are as shown below: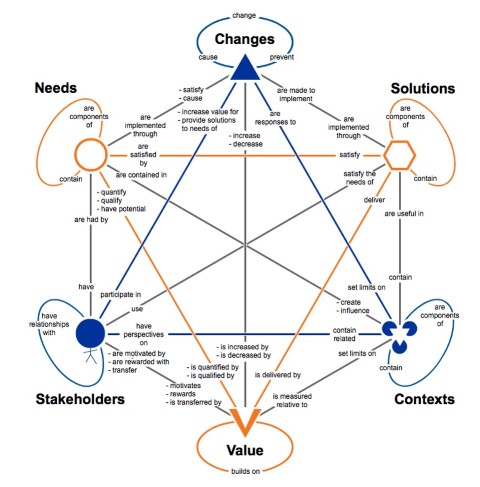 Let's try and understand each one of them with the help of an example.
If are not familiar with BABOK guide, you can refer to the following blog post:
Introduction to Business Analysis Body of Knowledge (BABOK) Guide
Core concept – Need
Need core concept is defined by BABOK as:
A problem, opportunity or constraint with potential value to a stakeholder (s)
Need can be thought of as the reason which starts a project. In this case, we are talking about a software project. An organization needs a software (or a solution) to address a business problem.
Example: The need to automate the sales, marketing & customer service processes.
Core concept – Solution
The BABOK guide refers to this core concept as:
A specific way of satisfying one or more needs in a context.
Organizational needs can only be satisfied or addressed through a solution. A solution to address the need can be specific to an organization as different organizations or situations may need different solutions.
Example: Implementing a Software as a service (SaaS) CRM system, rather than a COTS (commercial off the shelf) CRM product.
Core Concept – Change
IIBA BABOK refers to the this core concept as
The act of transformation in response to a need.
Once the organization recognizes it's need, a change has to take place in the organization to address the need. The need is addressed through a specific solution, as discussed in the solution core concept.
Example – This change refers to the fact that a solution implementation may need mindset change of employees as they will shift from manual system to an automated system.
Core Concept – Context
Context refers to specific background, budget, timelines, organizational structure, that may influence the solution implementation.  Context may decide the specific solution to be appropriate for an organization.
Example: Extending the CRM example in the solution section. If Software as a service (SaaS) CRM system is suitable for Organization A, it is possible that a customized software is more suitable for Organization B. Thereason can be very specialized business processes for organization B as compared to the almost standard business processes in organization A.
Core Concept – Value
IIBA BABOK refers to "Value" as:
The worth, importance, or usefulness of something to a stakeholder within a context.
An organization has a need as it foresees business value by addressing the need. The business value is an anticipated outcome of implementing a solution.
Example – By implementing a CRM solution, a business can look forward to increase its revenue or to improve customer service standards. This is what is meant by "Value".
Please note that value can be tangible or intangible. This means that value can be qualitative or quantitative.
Core Concept – Stakeholder
Who is a stakeholder?
A group or individual with a relationship to the change, the need, or the solution.
A stakeholder is an individual or group who can influence the project or can get influenced by the project as a user. The stakeholders can be from the customer organization, the solution provider or an external organization.
BABOK guide has proposed specific categories of stakeholders but does not limit them to only these categories. The stakeholder's categories as per BABOK are:
business analyst,
customer,
domain subject matter expert,
end user,
implementation subject matter expert,
operational support,
project manager,
regulator,
sponsor,
supplier, and
tester.
Example – In our example of CRM solution, the stakeholders can be marketing manager, Marketing head, you as a business analyst, the project manager and so on.
These concepts are important part of BABOK guide and therefore also important for the IIBA Certifications preparation.
Read Also: What is inside BABOK