ECBA Practice Exam Simulator
Techcanvass offers an ECBA question bank and simulator with more than 1000 questions. Our ECBA exam simulator is based on BABOK v3 and comprises of chapter wise and full length tests with powerful reporting features.
Key Features of ECBA Exam Simulator
Key features of Techcanvass's ECBA Practice Exam Simulator are:
More than 1000 questions
Chapter wise practice questions
6 Full length simulations
Answers with explanations
In-depth reporting (exception reporting included)
The most important aspect of this question bank is that it's evolving. 
Chapter wise ECBA Exam questions
We have multiple questions from each of the knowledge areas covering all the tasks, guidelines & techniques. Each test will be aligned to the final exam format. You can try these tests any number of times.
Based on our experience, we believe that you should try these knowledge areas wise tests till you start scoring 70% consistently.
Most importantly, you must note that 3 of the six knowledge areas carry a weight of 64% and the remaining 3 have a weight of only 11%.
So the choice is obvious.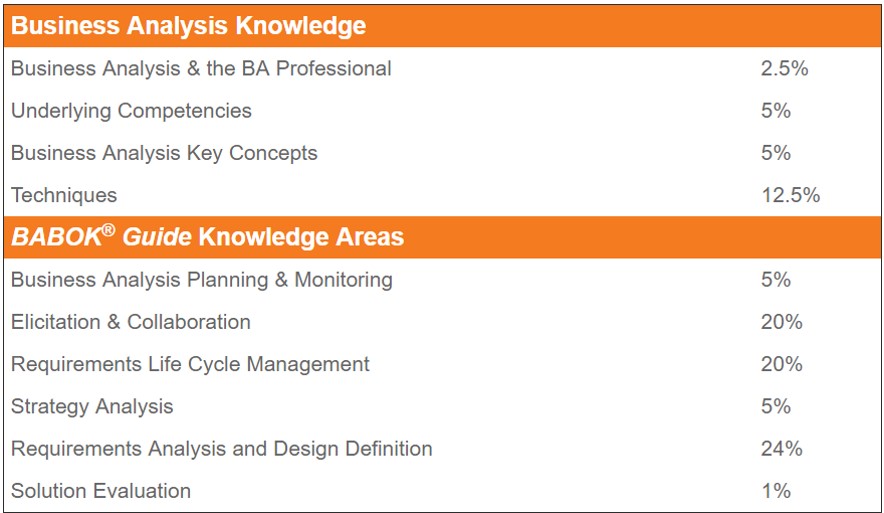 Full length ECBA tests
We have completely different questions for the full length tests. We have designed it this way so that you get to practice with multiple questions as well as experience the full length tests in a completely new and formal environment.
Our suggestion is that you should try these tests, once you are happy with the knowledge area wise performance (80% score).
Secondly, you should try the full-length tests in the last two weeks. These tests are 1.5 hrs long and should be the final check points.
ECBA Certification exam is designed for beginner level business analysts and the exam is expected to be simple. The questions are multiple choice and carry no negative marks.
ECBA Question Bank and Free Practice Test
Want to try and see the question pattern, Try this ECBA Practice test.
You can also try our ECBA Test Simulator by clicking on the button below.