I don't have an IT background – Can I become a Business Analyst?
This article will answer the following two questions:
Becoming business analyst without IT background
I don't have an IT background – Can I become a Business Analyst?
In this article, I am going to answer this question.
Why Business Analyst?
But first thing first. There is a growing demand for Business analysts and that's confirmed by a simple search in Naukri. It showed me more than 26,000 results and pretty much evenly distributed across metros.


Business analysts in IT industry have a strong demand and a good future too. If you have made a decision to make this switch, you have a made the right decision.
If you are from a Sales background, you might find the following article more relevant:
http://businessanalyst.techcanvass.com/can-i-move-from-sales-or-business-development-to-business-analyst-role/

Becoming business analyst without IT background
Business Analyst is a role employed in the IT industry and works with the customers as well as the software development team. This has led to a common perception that business analysts need programming skills. Non-IT professionals assume that it's extremely difficult to become a business analyst. However, that's really far from the truth.
Business analysts do deal with IT professionals and IT processes. But they are not involved in coding/programming, that's the job of programmers. Business Analysts deal with requirements understanding, development and management and functional testing. These responsibilities don't involve any programming skills. So what are the key skills for a business Analyst?
Business Analyst Skills (CRAFT framework)
We have identified four key skills for entry level business analysts. Techcanvass CRAFT framework shows these skills as shown below: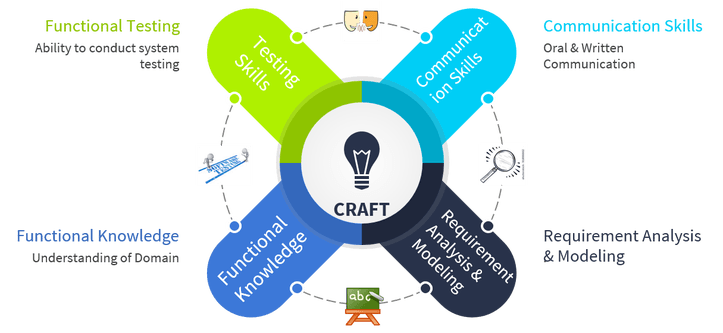 The diagram above shows the 4 most important skills for a Business Analyst. What do these skills signify, let's explore…
Requirement Analysis and Modelling
Requirement analysis and modelling skill involves learning multiple techniques & processes. These techniques and processes are related to the core IT processes. A break-up of these skills are as follows:
SDLC & Requirements understanding (User Stories, Use cases etc)
Process Modelling (Activity diagrams & flow chart)
Data Modelling using E-R diagrams
Developing requirements specifications (SRS, Backlogs etc)
For professionals coming from non-IT background, there is a learning curve. You may need to devote maximum amount of time to learn these skills. Techcanvass has created specific modules for non-IT professionals in the training programs to make it easier for them. See an example, this is a recording of IT training for non-IT professionals:
http://businessanalyst.techcanvass.com/business-analysis-tutorial-for-non-it-professionals/
Functional Testing
Functional testing is the last step before a software is delivered to the customer for acceptance testing. As a business analyst, you will be interacting with the customers for understanding their needs/requirements. So you are responsible to make sure that the software, which is being delivered to the customer, is as per their expectations.
For functional testing, you need to think of scenarios for every functionality. For example, if you have to purchase a mobile phone at Amazon, what are the scenarios:
Scenario I: You are an existing customer
Scenario II: You are not a customer of Amazon and have not made any purchases before
Both of these are practical scenarios and Amazon web site should be able to handle both these customers seamlessly. Functional testing will involve testing of these scenarios using the Amazon website with test data (one set of customers with existing userid/passwords and other set without existing userid/passwords).
Functional Knowledge or Domain Knowledge
As a business analyst, you should understand the business processes of the customer, you are developing software for. It helps you in understanding the requirements better. However, it's not possible to acquire functional knowledge quickly. You can gain while working as a business analyst.
Experienced professionals from non-IT background will have this skill already and that puts them into an advantageous position, even compared to IT professionals.
http://businessanalyst.techcanvass.com/having-spent-8-yrs-in-travel-domain-can-i-now-become-a-business-analyst/
Communication Skills
Communication skills is important as you need to communicate extensively with the customers as well as development team. They speak different languages and business analysts play the role of an intermediary. Communication skills play an important role in this.
http://businessanalyst.techcanvass.com/business-analyst-skills-soft-skills/
Conclusion
We discussed four key skills for an entry level business analyst and evaluated them with the perspective of a non-IT professional. These skills are not related to programming, but take a bit of time to acquire. So, it is completely feasible and possible for a non-IT professional to become a business analyst.
All the best