Moving from Banking to a business analyst profile
In this article, I am going to discuss the steps required for moving from banking job to a business analyst profile in the IT industry. Business Analysts have a promising career in the IT industry in the current market. They work as an intermediary between the customer and the IT company for gathering requirements for a software project.
First of all, let's understand the role of a business analyst first:
Role of an IT business analyst
An IT business analyst works with customer as well as technology team on a day-to-day basis. The diagram below shows high-level view of an IT business analyst role: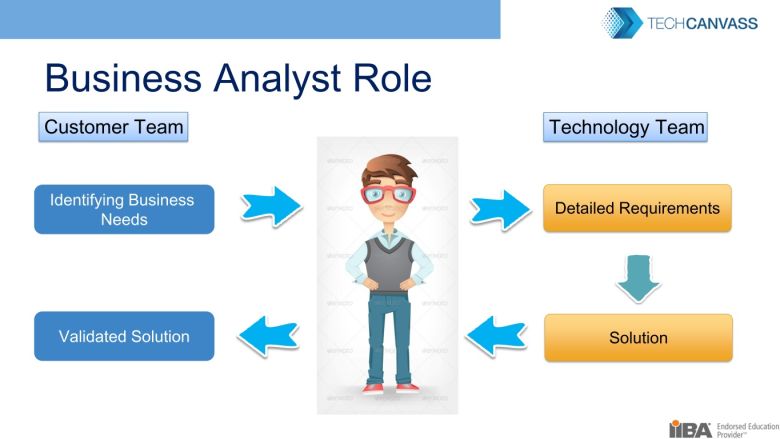 Here is the summary of the role of an IT business analyst:
To interact with customer to understand their requirements
To convert the business requirements into detailed technical requirements for technology team
To co-ordinate with the technology team to explain the requirements
To validate the developed solution before handing over to the customer for User Acceptance Testing (UAT)
To co-ordinate with the customer team and the technology team to facilitate UAT
So, what does it translate to? What skills do you need to acquire to be able to move to a BA role?
Business Analyst Skills Requirements
What are the basic skills required to become a business analyst? Techcanvass has formulated CRAFT framework to show the requisite skills for an entry level business analyst.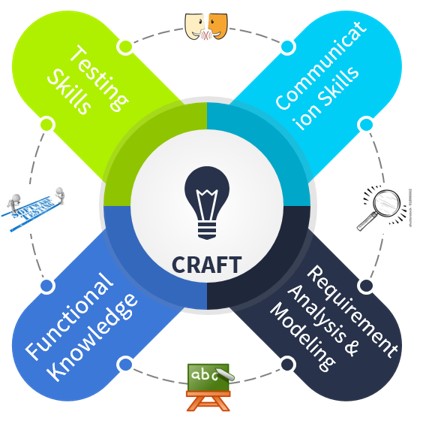 Communication Skills: Business analyst works as an intermediary between the customer and the IT technical team. This means that a BA must be strong as far communication skills is concerned. Both written and oral communication skills are important as a BA needs to prepare requirements specifications document. They also need to interact with the customer.
Requirements Related Skills: A business analyst spends considerable time working on requirements. A BA must be good with understanding the merits of software development methodologies, UML, User Stories etc.
Functional/Domain Skills: Understanding the business domain is a definite advantage for every business analyst. This helps in understanding the requirements better.
Banking and financial services is one of the domains (Referred to as BFSI) is the leading sector outsourcing IT projects. So if you are strong in that domain, your movement to a BA role is easier. As you have a retail baking background, you have a definite advantage.
Testing Skills: The business analyst performs the final round of testing before a software application is given to the customer for user acceptance testing. A BA should be familiar with testing techniques.
Business Analyst Certification
Certifications don't guarantee a job but it plays an important role in getting your resume shortlisted. If you don't have any experience in a particular profile (in BA profile), you need to have a certification in your resume.
IIBA (International Institute of business analysis) is a Canada based organization providing business analysis certifications. They offer ECBA (Entry certificate in business analysis) for entry level business analysts.
Know More about the ECBA certification below:
Business Analyst Certification for beginners – ECBA Certification
Facing Business Analyst Interviews
Once you have completed the first two steps, you need to modify your resume. It's important to add specific key terms and activities to align your resume.
The final step is to upload your resume on job sites and start appearing for the interviews.
http://businessanalyst.techcanvass.com/business-analyst-interview-question-on-requirements-gathering-elicitation/
Summarizing
To summarize, you need to acquire the skills mentioned above as well as get the IIBA ECBA certification. In addition to that, you need to dress up your resume so that it gets aligned to the business analyst profile.
Once you have completed all the steps, start facing the interviews.
All the best.
About Techcanvass
Techcanvass offers IT certification courses for professionals. We are an IIBA endorsed education provider (EEP), iSQI ATP (for Certified Agile Business Analyst Training) as well as Agile Testing alliance partner for CP-SAT certification training in Selenium.
We have a Business analyst training course with domain training in-built into it. This training program offers you the opportunity to get certified with ECBA certification as well as have banking domain understanding.