What should be key elements of the Business Analyst course for Beginners?
What should be the syllabus and Key elements for a Business Analyst course for beginners? If you have reached here looking for answer to this question, this article will provide answers.
We are going to discuss the important ingredients of a course, which is suitable for learning Business Analysis skills and becoming a certified business analyst.
First of all, It's important to examine the skills needed for an entry level business analyst. So, lets start with that.
Entry level Business Analyst Skills
Techcanvass has identified the four key skills for the entry level business analysts. CRAFT framework, as we call it, encapsulates these four skills.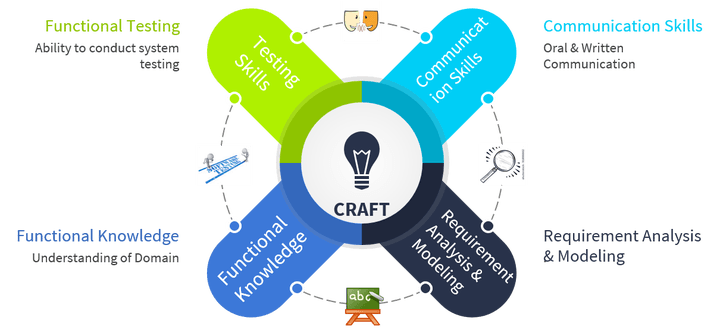 Communication Skills
Communication skills is at the heart of a business analyst role as a BA works as an intermediary between the business users and the technical team.
As a Business Analyst, it's important to have the ability to communicate clearly and crisply. Why this is important? Gaps in understanding of requirements leads to delayed projects as well as cost overruns.
A typical Business Analyst course for beginners will not include communication skills training. So, you need to learn it from a formal communication skills training academy.
Requirement Analysis and Modelling
A Business analyst works with requirements and develops business requirements into solution/technical requirements. So, Which are the skills, which are needed to do so? Here is a list:
UML Modelling like Use cases, Activity diagrams etc.
User Stories and Modelling
Understanding of SDLCs
Preparation of SRS document
Managing Changes
Data Modelling
Prototyping
Functional Testing
The list above, outlines the key skills which are needed to analyze and model the requirements.
So, when you are looking for a Business Analyst course for beginners, the course must include the above skills to help you become a Business Analyst.
Functional Skills
Functional skills or domain skills refers to the knowledge of the industry and the business. For example, if you are working for a mutual funds project, basic understanding of key terminologies, concepts and processes are required.
Why is this important? Because, this helps in understanding the requirements better. This helps in not misunderstanding or even missing any requirements.
However, functional skills is not a mandatory skill. You can still start your career without having domain knowledge. But it's an added advantage.
Techcanvass does offer domain training courses and you can visit the website to know more.
Functional Testing
A business analyst needs to validate the software application before it is handed over to the customer for testing. As a Business analyst, you gather the requirements from the customer ("What do they want"), so you are the best person to ensure that it is being delivered?
As a BA, you need to be good/efficient in validating the business processes. This enables you in ensuring that the delivered software meets the business requirements.
Key Elements of a Business Analyst course for Beginners
In the previous section, we discussed the core Business Analysis skills. But, are these enough? Not really, We have identified these four key elements, which are critical for becoming a Business Analyst and hence must be provided by the course:
The course must cover all the key skills, as mentioned above
It must be a hands-on course and should allow you to work on real-life projects
The course must meet the eligibility criteria for IIBA ECBA certification (ECBA is the most reputed one right now)
It must have preparation resources for the certification exam (Study Guide, Question Bank etc)
Becoming a Business Analyst
Techcanvass recently conducted a webinar on how to go about becoming a Business analyst. This will help you understand everything you would like to know about becoming a Business Analyst.
Techcanvass also offers an ECBA Certification Training program for becoming a Business Analyst.
---