Are you contemplating Moving from Sales to Business Analyst Profile? If yes, then this article will provide you with the approach to achieving your goal. IT industry needs business analysts from across the industry. It's possible to shift from Sales as well as from other corporate streams.
We get similar queries from professionals from other domains as well. You can refer to them as well.
Strengths of a Sales Professional
As a sales professional, you may have one or more of the following strengths:
a) Interaction with the customer or the ability to interact with the customer
b) Understanding a customer's needs and communicating them with your team
c) Helping your product/service team in creating a product/service addressing the customer needs
Why am I mentioning them? How is it relevant to a business analyst role? To understand that let's look at the role of a business analyst.
Role of a Business Analyst
Role of a business analyst is to gather the requirements from a customer and communicate it to the technical team to develop a solution addressing the requirements.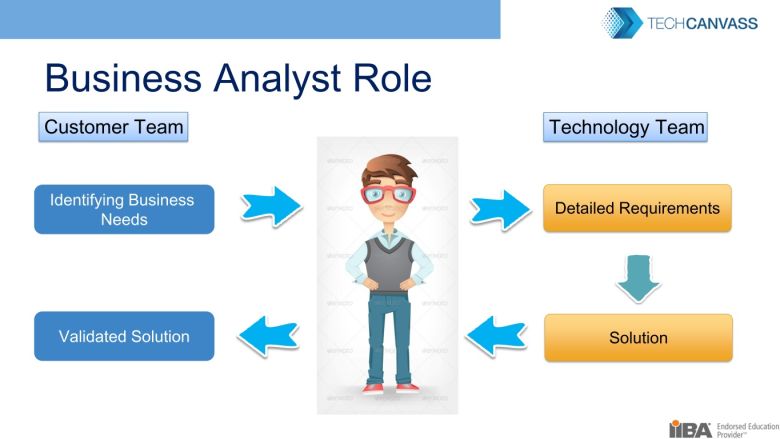 As you can see in the diagram above, you may find something common with the role of a business analyst. However, there are specific skills needed to become a business analyst. Let's try and understand the skills.
Which Skills do I Need as a Business Analyst?
Business Analysts are in fact cross-functional experts and can come from any industry.  The business analyst role hardly involves any programming. However, there are some key skills that you must acquire before you can move into a business analyst role.
Techcanvass has defined a simple skill framework called CRAFT for business analysts. CRAFT defines four important skills for Business Analysts.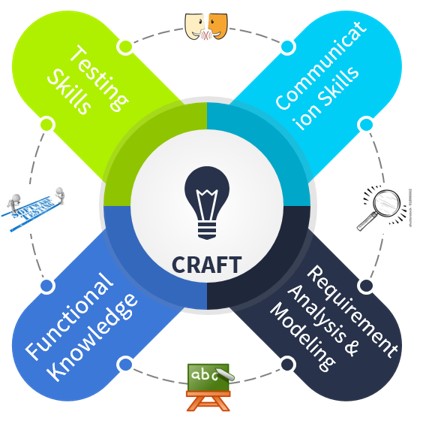 Let me give a brief about these skills:
Communication Skills: One of the most important skills for business analysts is communication skills. BAs have to communicate with customers as well as the tech team and to avoid information loss, good oral, as well as written communication skills, are critical. Since you are in Sales, you must be good in 'C'.
Requirements Analysis and Modeling: The ability to understand, analyze and model requirements is another skill set, BAs have to be good at. Processing modeling using UML or DFD and Data Modeling using E-R diagrams are some of the techniques, which can be learned.
Functional Knowledge: Understanding the business processes is another skill, which plays an important role in BAs career. For example, if you are talking to a Bank PM about developing a banking system, you need to understand basic processes and terminologies to be able to grasp, what does the customer want? Right.
Functional Testing: The last but not the least skill is the ability to validate the developed software with reference to the requirements.
Functional knowledge is not a mandatory skill to begin your career as a business analyst. You can enter the industry without business domain knowledge. However, it's extremely important to keep learning about businesses, it's going to be helpful.
Steps to Move from Sales to Business Analyst Profile
I have recently recorded a small video on this topic – Moving from Sales to Business Analyst. This video outlines and explains the steps needed to become a business analyst for a sales or business development professional.

All the Best
You can also subscribe to our youtube channel for more such videos:

About Techcanvass
Techcanvass offers IT certification courses for professionals. We are an IIBA Endorsed Education Provider (EEP), iSQI ATP (for Certified Agile Business Analyst Training) as well as an Agile Testing alliance partner for CP-SAT certification training in Selenium.
We have a Business analyst training course with domain training in-built into it. This training program offers you the opportunity to get certified with ECBA certification as well as have a banking domain understanding.