Business analyst profile is one of the most rewarding profiles in the IT industry today. So, if you are from a non-IT background, the natural question in your mind would be:
How can I become a business analyst without IT background?
But why to become business analyst?
There is a growing demand for Business analysts and that's confirmed by a simple search in Naukri. It showed me more than 26,000 results and pretty much evenly distributed across metros.

Business analysts in IT industry have a strong demand and a good future too. If you have made a decision to make this switch, you have a made the right decision.
Do you come from Sales background, here is what you would like to read – How can I become a business analyst with sales background?
Steps for becoming business analyst with no IT background
Business Analyst is a role employed in the IT industry and works with the customers as well as the software development team. This has led to a common perception that business analysts need programming skills.
Non-IT professionals assume that it's extremely difficult to become a business analyst. However, that's really far from the truth.
So, here are the steps to become a business analyst even without an IT background?
First of all, understand the role and responsibility of a business analyst in the IT industry.
Assess if you would like to do that role on a long term basis. Unless you enjoy doing something, it's not for you
Understand the gaps in the skills between what you possess and what is needed to become a business analyst. The skills are listen in this article below.
Select and join a course to learn the BA skills and prepare for the ECBA certification (best certificate at the entry level).
Finish the course, prepare well for the certification and appear for the certification exam.
Update your resume with keywords relevant for the business analyst profile.
Start appearing for interview and make sure that you practice it well with entry level business analyst interview questions and scenario based interview questions.
Business Analyst Core Skills (CRAFT framework)
We have identified four key skills for entry level business analysts. Techcanvass CRAFT framework shows these skills as shown below: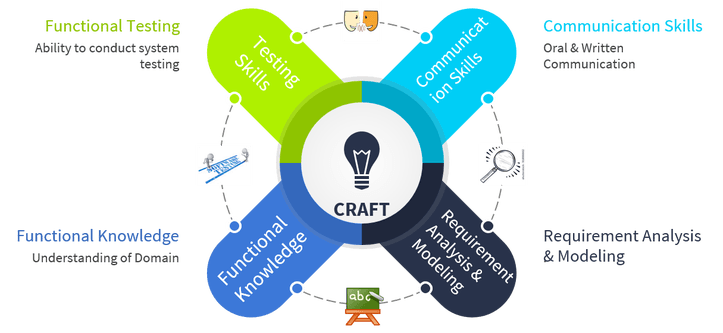 Soft Skills for business analysts
Communication skills is important as you need to communicate extensively with the customers as well as development team. They speak different languages and business analysts play the role of an intermediary.
Learn about all the soft skills needed to be a business analyst.
Conclusion
We have suggested a step by step process to become a business analyst without having any IT background. Hope it helps you in becoming one.
If you have any questions, do write to us.
All the best