Which are the key players in the US healthcare Industry?
The major stakeholders in the healthcare system are patients, physicians, employers, insurance companies, pharmaceutical firms and government. Insurance companies sell health coverage plans directly to patients or indirectly through employer or governmental intermediaries. So which are the key players in the US healthcare industry?
In this brief post, we will talk about the four key players in the US healthcare Industry. A simple image displays all the key players: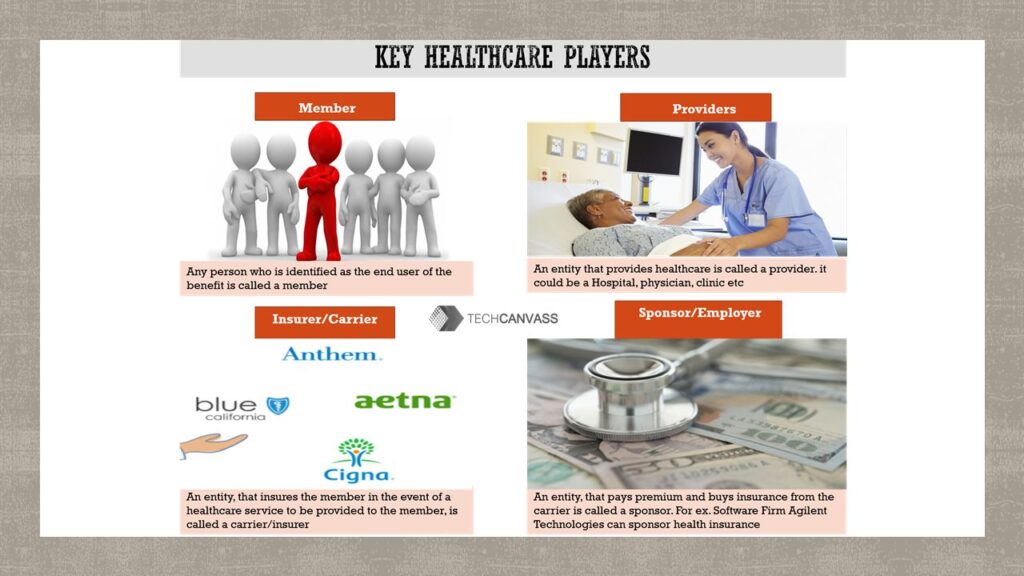 Member
A member is a person who purchases insurance from (or enrols with) an insurance company. We can call him as a subscriber also.
He can purchase this insurance coverage for himself and his family (also called his dependent). This is known as Individual Insurance. In most cases, his employer will pay for his insurance coverage. In such a case the employer becomes his plan sponsor and the insurance is known as Group Insurance. Both individual and group insurance, have their advantages and disadvantages.
Provider
A Provider is that entity which offers actual medical services to the members. A doctor, a pharmacy or hospitals are all referred to as providers.The providers enter into an agreement (contract) with the insurance company. Under this agreement they provide medical care at reduced rates to the members, in return they are offered monetary benefits by the insurance company. These monetary benefits are offered in various forms.
Insurer/Carrier
An entity that insures the member in the event of an healthcare service to be provided to the member is called a carrier/insurer. Carrier can be an independent company, employer or even a group. For ex. TATA-AIG is an insurance co. thus a carrier.
Sponsor/Employer
An entity that pays premium and buys insurance from the carrier is called a sponsor. Sponsor can be Employer, Family Individual or affinity group that pays for insurance premium. For ex. Software Firm Agilent Technologies can sponsor health insurance, so can members of RWA in Delhi and even you can buy insurance for yourself and your family. All these entities will be sponsor of the insurance.
ABOUT TECHCANVASS
Techcanvass is an IT certifications training organisation. We are an IIBA Endorsed education provider and iSQI, Germany Authorised training centre. We provide business analysis and automation testing certification courses. Apart from offering IIBA Certification training programs, we also offer domain training certifications.
Business Analyst training in Banking, US Healthcare, Trade Finance and many other domains are offered by Techcanvass.