Businesses are increasingly becoming online to expand their reach, User experience has become a buzz word. In this article, we are going to understand – what is user experience or UX?
Why companies are spending a lot on getting the user experience right?
Let's understand what is exactly UX and why it is in vogue.
What is User Experience?
User experience, also called as UX defines how the digital experience of a user can be made more pleasant and useful. It covers all aspects of user interaction with the product or service.
Basically, it looks at the aesthetics, accessibility, durability as well as usability of the product, to make the user experience more meaningful, relevant and smooth.
UX means- Understanding users' persona, their emotions, and behavior while using the product.
Why we need UX?
Now that you know what is User Experience, let us learn why do we need UX.
UX aims to provide a positive experience for the user to build and maintain a strong bond with the customer.
Imagine creating a product which is too complex to be used by users, or have too many fields to be filled in checkout forms, unnecessary navigations and such scenarios are endless.
In such a competitive market, with such UX obstacles and bad designs, a brand can definitely lose their customers.
And if you want to keep the user engaged, good UX design is significant. UX design take care of all the needs and expectations of the user.
Providing a fantastic user experience that also adds value to the user is obviously, important.
Now, if the product doesn't make any value addition to the customers, next time they will never use it.
Also, if your user is frustrated, angry or confused, then it's a red flag for your brand and product. Any frictions between the user and your service could be disastrous for a long-term.
So, this is the reason why UX is important.
How UX is different from UI?
Ever came across the term User Interface?
Well, the two terms UX i.e. User experience and UI i.e. User Interface go hand in hand. But both have their different meanings and significance.
Now, if we assume UX is like the human body structure, UI is adding skin and clothes to it.
Simple, right?
Another example could be like designing a sofa. The UI designer will look at the aesthetics, the colors, and texture while a UX designer will need to understand the user and see what can be done to make it more comfortable.
So to summarize…a UI designer takes care of the visual elements WHILE…
… a UX designer needs to look at a larger picture which encompasses the whole user experience to make it more meaningful and interactive.
Aspects of UX Design
Generally, the format of UX is simply, any UX designer asking the questions:
"Who? What? Why? Where? And How?"
They need to understand the user persona and then accordingly, design the system in order to give a delightful user experience.
Below mentioned is a diagram with the various aspects of UX design.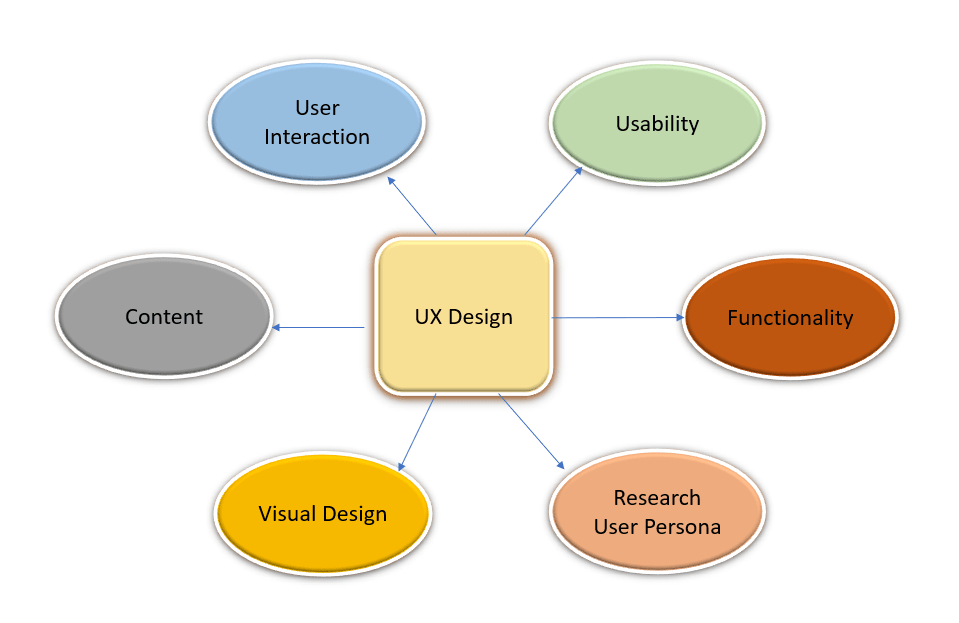 Summary
So, now you have a basic understanding of user experience, its need, aspects, and the difference between user experience with the user interface.
The prime focus of your product should be the users. If it can't cater to the users' needs, no matter how visually appealing your product is, no one will care to use it.
UX designers make sure the product or service is easy to use, adding value to the customer and thus creating a strong customer engagement.
And that's the reason, user experience is so important in this digital age.
About Techcanvass
Techcanvass offers IT certification courses for professionals. We are an IIBA endorsed education provider (EEP), iSQI ATP (for Certified Agile Business Analyst Training) as well as Agile Testing alliance partner for CP-SAT certification training in Selenium.
We have a Business analyst training course with domain training in-built into it. This training program offers you the opportunity to get certified with ECBA certification as well as have banking domain understanding.