Try these CBAP Practice questions based on the CBAP v3 exam pattern conducted by IIBA. These questions are also available through BABOKDrills, a preparation resource for all the IIBA certification exams – CBAP, CCBA, AAC and ECBA.
Every week, we will publish new questions for practice and revising your preparation. Each question is provided with answer and explanation.
CBAP Practice Questions
You can access the CBAP exam questions on this specific page. Once you finish these questions, you can also access more questions by using CBAP Exam simulator.
You can access the question by clicking on the button below.
BABOK Crossword Puzzle
Second drill of the week was a crossword puzzle. All the mock questions and drills are part of our BABOKDrills package.
The instructions to solve the crossword puzzle is given on the page.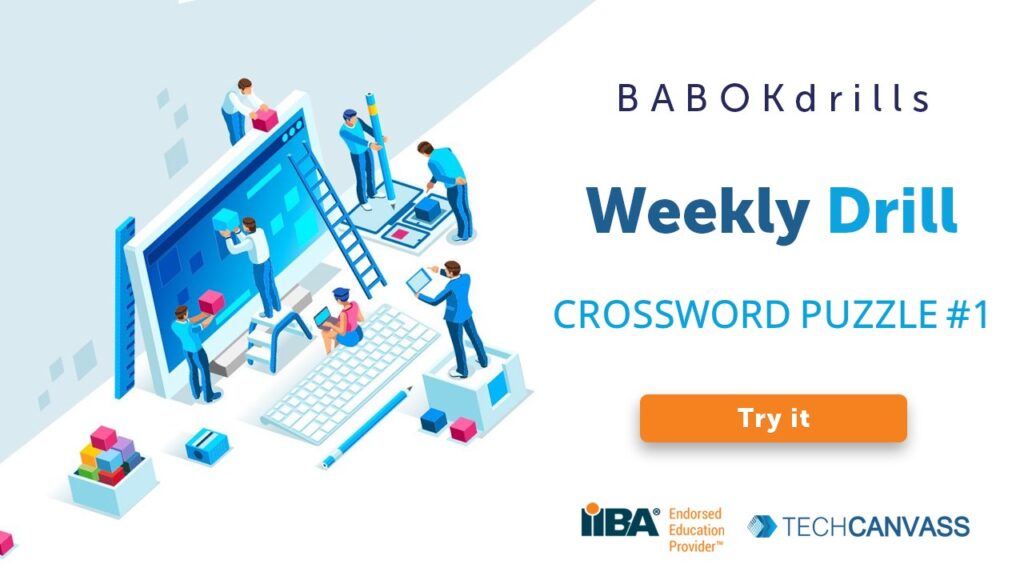 How to prepare for CBAP certification?
CBAP certification exam is tough and it requires systematic preparation approach to crack it. You can read CBAP preparation approach: Step by Step.
You can also go through Mrinalika's successful CBAP v3 journey
or CBAP preparation approach of Manoj Kulkarni.
If you want to know the types of questions asked in the exam, take our Free CBAP practice test
CBAP Training
Techcanvass offers CBAP certification training program with following key features:
35-hrs of PDUs
CBAP Mock Questions (4-levels of questions)
Case Study based questions
BABOK Revision Guide