Business Analysis Virtual Workshop – Agile Business Analyst
This month's business analysis virtual workshop will be on Agile business analyst. Techcanvass conducts these virtual workshops every month on topics worth discussion. In this workshop, our expert will talk about the controversial role of an Agile business analyst.
I call it controversial because SCRUM as an Agile methodology does not formally recognize the role of a business analyst. It has a role namely product owner. However,  Business Analysts are becoming an integral part of every software project. So, how can projects using Agile methodologies like SCRUM can be any different.
The question is – whether we assume that product owner is nothing but a business analyst or Business Analyst does more than that?
Business Analysis Workshop Details
This is a virtual workshop and you can join it from anywhere in the world. The scheduled date and time are as follows:

  18th March, 2017 from 9:00 AM to 10:30 AM
The agenda for this workshop are as follows:
What is different as a Business Analyst in Agile Environment
Business Analysis in Agile Environment
Case Study
Q & A session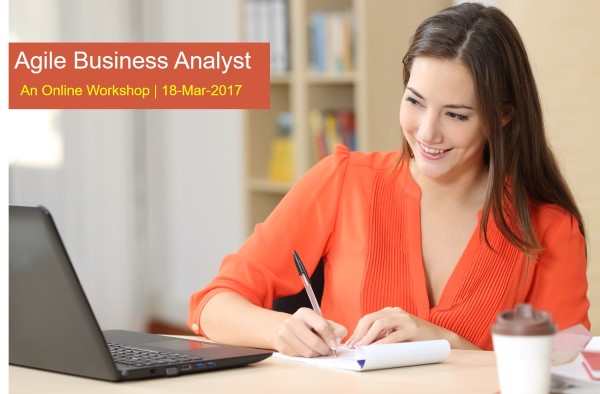 Click on the image above to visit the event page and register for FREE.
More on Agile Business Analyst
Techcanvass specializes in Agile and business analysis domains. We believe that this role is going to be one of the most prominent roles of the future.
I have selected couple of articles for you to read and get yourself familiarized with Business analysis in Agile environment.

What are the roles and responsibilities of a Business Analyst in agile project?
About Techcanvass
Techcanvass is an IT training academy for professionals offering courses in Business Analysis, automation testing and analytics. We are an IIBA Endorsed education provider (EEP) and iSQI authorized training partner for conducting Agile Business Analyst certification course for providing IIBA certification programs.
You can check out the Agile Business Analyst training program below: