This article on fundamentals of banking domain is the first article of the three-part Banking domain knowledge series. In this article, we explain the following topics:
The Banking System
Functions of Banking
Evolution of Indian banking system
The next two in this series will explain the concepts of Retail and Corporate banking. You can view the article on retail banking.
Banks
A Bank is a lawful and regulated financial institution which provides deposit services, keep safety of deposit and allow withdrawals when needed. These services are offered to general public individuals or small business to big organizations.
Investor with surplus can deposit their money with Bank to earn interest and keep money safe which can be withdrawn when there is a need. Other side, individual or firms looking for fund to fulfill their immediate need and get the loans from Bank by paying reasonable interest rates.  This provides liquidity to money which is a key factor for economic development of a country.
Banking System
When group of banks and financial institutions collectively provide financial services to general public, firms or a country is termed as a banking system. Banking system provides a common channel for proving and maintaining a payment system, offering lending, accepting deposits, and proving other investment services. 
Functions of Banking
Banks play an important role for a Country, its People and for its Industries to grow. Bank plays a variety of functions and it can be categories as
Primary Functions – Primary function of the bank is to accept the deposit from lenders with surplus, and give it to borrowers who are in need of the funds. This maintains the liquidity of money in market and economy. Banks origin was with these 2 primary functions of Deposits and Lending.  
Savings & Deposits – Bank accepts deposits from lender, safeguard it, pay interest and allow withdrawing when needed. A variety of products or services are offered in deposits, like savings accounts, current accounts, fixed deposits and recurring deposit
Lending – Deposits accepted from borrowers is used to offer loans or other lending services at higher rate of interest which help borrowers to fulfill immediate need for managing working capital or expansions. Some of the common examples are loans, cash credit, bill discounting, and overdraft.
Secondary Functions – Commercial banks are offering a variety of other services in order to generate more margins or profits which are also termed as non-banking functions.
Agency Functions –  Bank act as an agency for their customers and performs functions like fund transfer, managing payables and receivables, portfolio management and checks collection and clearing
Utility Functions – Banks also provide a number of utility functions to its customers such as locker facility, demand drafts, reporting and underwriting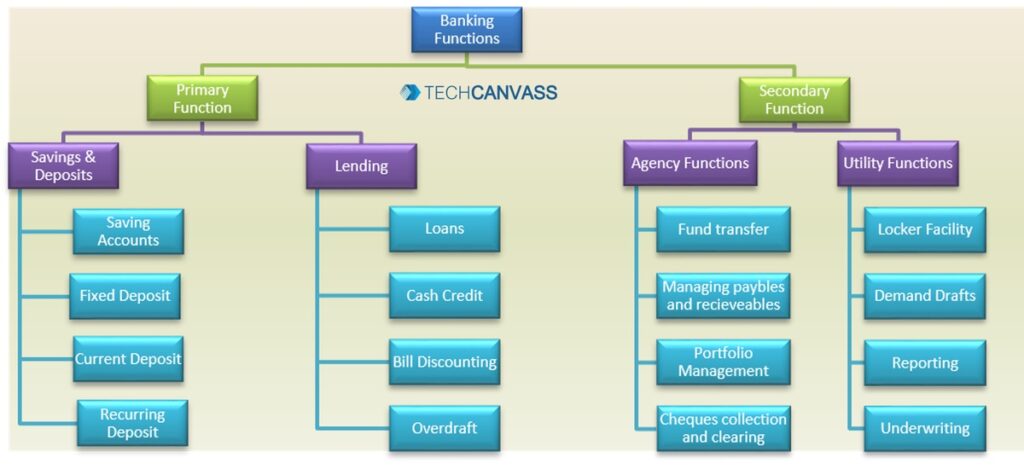 Indian Banking Evolution
The evolution on Banking can be visualising as for clear understanding:

First bank in India was established in 18th century with name 'Bank of Hindustan" in Calcutta (currently named as Kolkata) in 1770 and was the begging of Banking system in India
In 1786, another bank was established as 'General Bank of India' but couldn't sustain longer and failed in 1791.
The oldest and largest bank which is still in existence is State Bank of India (SBI). It was established as 'Bank of Calcutta' in 1806 and then renamed as Bank of Bengal is 1809.
Later on two more banks Bank of Bombay in 1840 and Bank of Madras in 1843 was established.
All these 3 banks were presidential government bank and later on these were merged as 'Imperial Bank of India' in 1921.
In the year 1935, Reserve Bank of India was established on recommendation of the Hilton Young Commission
In 1955, after independence 'Imperial Bank of India' was changed to State Bank of India.
In 1969, 14 banks were nationalised in ordered to focus and development of lagging sectors such as agriculture, small-scale industries and exports

In 1980, 6 more banks were nationalised

Specialized development banks were setup, to support agriculture NABARD was established in 1982 and EXIM bank in 1982 for export and import.
In 1991, foreign and private investors were allowed to invest and ICICI, HDFC, Axis Bank, IndusInd Bank, and a few more banks were given banking license by RBI
In this post, we explained the fundamentals of banking domain. In the next article, we will discuss the overview of Retail banking. Will be happy to hear your feedbacks.
Conclusion 
In conclusion, the banking industry is more than just a world of numbers and transactions; it is a dynamic ecosystem that is essential to the development of economies and the financial security of individuals. As we examine the foundations of this field, we find an intriguing interaction between technology, law, and human ingenuity. Banking is about more than just money; it's also about innovation, trust, and pursuing one's financial goals.
Are you ready to find out the truth of the current banking industry? Look no further than Techcanvass' Banking Domain Training program! Your entry point into comprehending the specifics of the banking industry is this comprehensive training. Our course covers everything, from fundamental ideas to current business trends. Our knowledgeable instructors will walk you through each step, whether you're a seasoned professional wishing to advance your skills or a novice in the sector. Gain insightful knowledge, advance your professional chances, and become a leader in your field.