Retail Banking is one of the functions of Banking industry. Other functions include Corporate Banking, Islamic Banking, Private Banking and so on. In this post, we are going to answer the question – What is Retail Banking? This is part of our Banking domain knowledge tutorial series.
Retail banking is a type of banking that is framed especially for individual consumers and not for the organizations.
Retail banking services are generally offered by financial institutions by setting up local branches around different locations, where customers can withdraw and deposit money and interact with a bank representative about loan products or his other needs.
Retail banking is also known as consumer banking.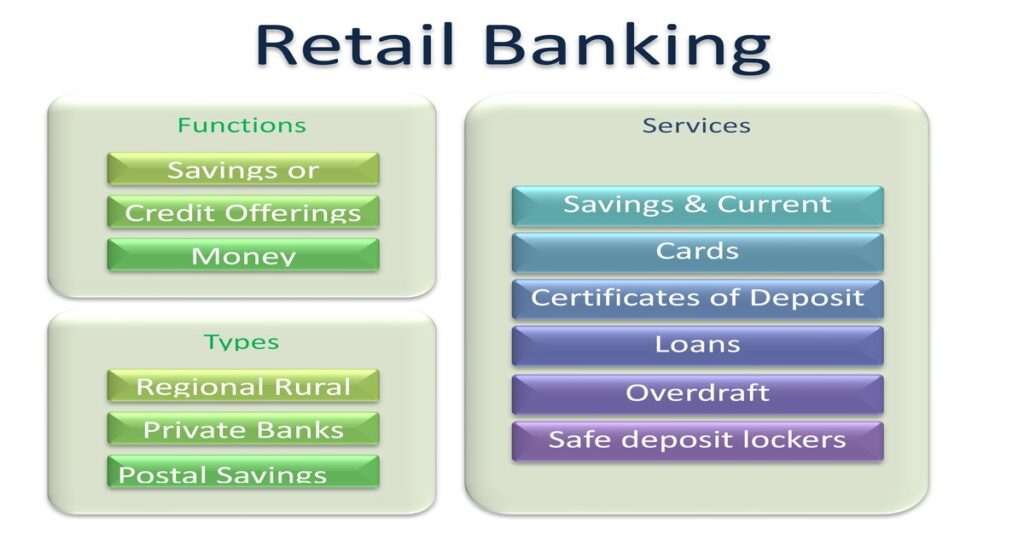 Retail Banking Functions
Retail banks primarily serve the following functions:
Savings or Deposits: Accept the surplus from the individual customers as saving and pay interest.
Credit Offerings: Retail banks offer credit to individual customers as loans and earns interest.
Money Management: Retail Banks offer a variety of services to its customers to easily manage and transact their money like ATMs, Cards, UPI, Online transfers, etc.
Retail Banking Types
Regional Rural Banks: Provide banking and financial services to different rural and low developed regions to serve lower- and middle-class people in rural regions of the country with the primary objective of development of a specific area like agriculture, small industry, trades, or other small-scale business in these areas.
Private Banks: Provide banking and financial services in urban areas to serve the individuals belonging to medium to high-income groups located in urban areas and are termed as private banks. These banks provide wealth management services along with basic banking services.
Postal Savings Banks (Post Offices): National Postal System also offers basic banking services like savings, deposits, and withdrawals in some regions of the country and are termed as Postal Saving Banks.
Commonly Offered Products and Services
Retail bank deals with individual customers or the general public by providing basic banking services mentioned below but not limited to:
Savings Account: Bank accounts offered with the primary purpose of saving the surplus amount with a limited number of transactions, usually offered with debit / ATM card to make easy transactions.
Current Account: These accounts are usually offered to business individuals who need a high number of transactions. Usually, no interest is paid on these accounts.
Cards: A variety of cards are being offered including debit cards, credit cards, prepaid cards, and travel cards to allow bank's customer's easy access to money.
Certificates of deposit (CDs): This is also termed as time deposits where customers deposit money for a fixed duration of time to get better returns than a savings account. A penalty is applied in case withdrawal is needed before the maturity time.
Home Loans (purchase and resale): – Loans are offered to customers to purchase a new house or resale.
Auto Loans: – Loans are offered to buy a vehicle like a car, jeep, or light motor vehicle (LMVs).
Personal loans – Unsecured loans are offered to the customers based on their credit ratings.
Overdraft – An additional credit is offered to the customers to allow them to withdraw money even with no balance in the account.
Safe deposit lockers – A safe personal box or locker is provided to keep valuables at the bank's secure place.
This is the second post of Banking domain tutorials. In the first part, we explained the basics of Banking.
About Techcanvass
Techcanvass offers IT certification courses for professionals. We are an IIBA endorsed education provider (EEP), iSQI ATP (for Certified Agile Business Analyst Training) as well as Agile Testing alliance partner for CP-SAT certification training in Selenium.
Techcanvass offers domain certification courses in Banking and other domains.
You can read many articles on Business Analysis certifications in this Business Analysis blog.