Moving from developer to business analyst role is a commonly considered career move for IT professionals. It is a natural progression for many just like getting into technical architect roles. It depends on aptitude and interest. (At some point in time, loosing interest or not finding it motivating enough is the biggest motivator)
Considering the career prospects of a business analyst, transition to a business analyst role is a good idea. In this article, we are going to discuss the steps involved in the transition.
Understand the entry level BA skills requirements and conduct gap analysis
The first step towards transitioning to the business analyst career is to understand the skills needed to become a business analyst. Since you are already working as a business analyst, you must have already acquired some of the skills. So, you might need to acquire and work for incremental skills. We will discuss that part little later in this article.
First of all, let's look at the key skills of a business analyst, as defined by Techcanvass CRAFT framework.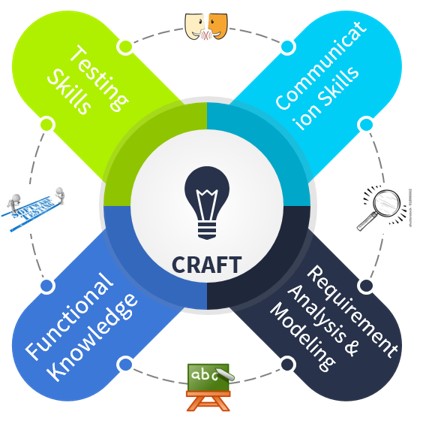 The CRAFT framework defines the top 4 skills of a business analyst, as listed below:
a) Good Communication skills as you will have to communicate effectively with the business as well as the IT team
b) Formal business analysis skills: This is probably most used and important skill for a business analyst. If you have to transition to a business analyst role, you must learn these. In essence, this translate to following:
Requirements elicitation techniques
Process Modelling (UML Modelling and/or DFD Modelling)
Data Modelling (E-R diagrams and/or Class diagrams)
Writing requirements specifications (User stories/Backlog, SRS/FS, Use case specifications)
c) Functional Knowledge: Functional knowledge refers to the business domain knowledge. It is not a must to switch to a business analyst role. But it's an important skill for succeeding as a business analyst.
d) Functional testing: As a business analyst, you will be responsible for validating the developed software, before it is delivered to the customer for UAT. Functional testing, most probably, you will be familiar with. Just brush up the scenario testing concepts.
The next step in your transition is to consider the certification.
Do you need a certification?
Having understood the skills needed to move to a business analyst career, you also need to consider the business analyst certification. Do you need a certification? The certifications are the only means for an employer to be assured of a minimal level of skills. Certifications alone may not be able to get you a job, but it plays the role of an enabler.
IIBA ECBA Certification is the most valued entry level business analyst certification.
When should you make a switch?
When should you think about making a switch to business analyst role? Is there a right stage or is there is a minimum level experience you should have? There may not a perfect answer to this question, but in my view, you should ideally have couple of years of experience before making a switch. That provides you a good platform to start your BA career because of your understanding of the software development aspects.
This article is written to provide you simple steps and answers to relevant questions, so that your move to a business analyst career is easier.
How to prepare for ECBA Certification Exam?
I have written another post on – ECBA Certification exam preparation strategy. Read to know how to prepare for the exam?
About Techcanvass
Techcanvass offers IT certification courses for professionals. We are an IIBA endorsed education provider (EEP), iSQI ATP (for Certified Agile Business Analyst Training) as well as Agile Testing alliance partner for CP-SAT certification training in Selenium.
You can know more about the ECBA Certification training program offered by Techcanvass. It's an IIBA Endorsed education course with 21-hrs of PDs.