In this article, I am going to discuss and explain the aspects of ECBA Exam preparation strategy. You need to clear an online test to get the ECBA certification, so how do you prepare for the ECBA certification?
ECBA certification exam is based on IIBA BABOK guide version 3. This book is big and can be intimidating for many specially if you are new to business analysis. So I decided to enable every ECBA certification aspirant to adopt an efficient approach to the preparation.
If you would like to know more about ECBA certification, read the following article:
Business Analyst Certification for beginners – ECBA Certification
First of all, let's try and understand the BABOK guide structure.
BABOK guide structure
The Business analysis body of knowledge (BABOK) guide has multiple sections and the sections map is shown below: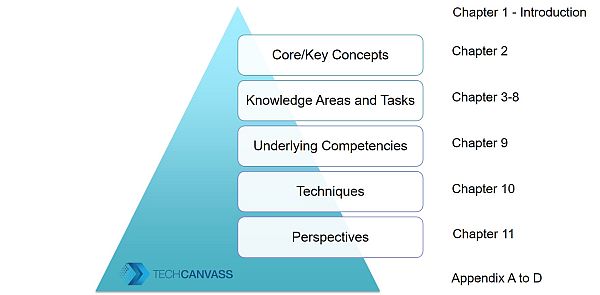 It's a well structured and researched book, however a very difficult book to understand. The good news is that as an ECBA certification preparation standpoint, you don't need to go through the entire content.
The scope for ECBA certification is limited. That makes your task easier. So, what's the scope for you? We are going to discuss that in the next section.
ECBA Certification exam scope
The image below is reproduced from IIAB website, which has a dedicated page for ECBA certification. Three of the six knowledge areas have 64% weightage from the certification exam perspective and that's pretty interesting. The next important part is the Techniques section, that has 12.5% weightage.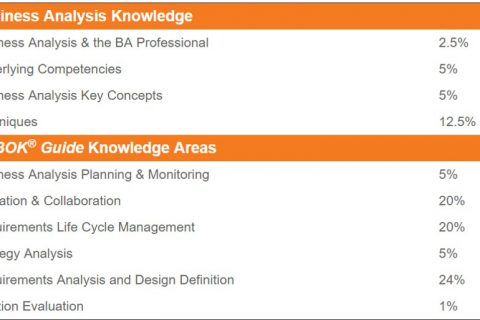 So, how do you go about preparing for the exam. It's really a 3-step strategy.
ECBA Certification exam preparation strategy
ECBA Certification exam is a multiple choice examination. It will have 50 questions and the time allotted is 1.5 hrs. The questions are going to be straight forward and from the BABOK guide.
Step 1: Understand Business Analysis
Assuming you are new to the business analysis domain, you should first try and understand what is business analysis and how does it work? How does software development work? What are the different phases?
This is important as this will help you in relating to BABOK guide better. As ECBA certification  needs you to acquire 21 hrs of CDUs, you need to join an IIBA EEP. The EEPs should be able to cover these topics. Techcanvass is one such IIBA EEP
Step 2: Go through the BABOK guide
ECBA Certification has a well defined focus. However it is advisable that you go through the BABOK guide once before delving into the focus areas.
Once you have gone through BABOK once, go through the focus areas in details to understand it in depth: Your focus areas are as follows:
Business Analysis core concepts
Business Analysis knowledge areas
Elicitation and collaboration
Requirement life cycle management
Requirement analysis and design definition
Techniques: As each of the above knowledge areas indicates the common techniques used by these knowledge areas, so that automatically covers the techniques.
Typically an IIBA EEP course should cover these techniques required.
Step 3: Mock Tests
This is an important aspect for your preparation. Start by taking Knowledge area wise tests and once you are able to do well (target 80% score), go for the full test. Full tests should be taken at least 2-3 days prior to your actual test. If you are able to score 80% consistently in mock test series, you should be able to clear the test at first attempt.
Obviously, it goes without saying that you should be selecting the ECBA practice test simulator properly.
Here is a mock test published by Techcanvass
ECBA Exam Preparation Strategy Slides
We have published a presentation on slideshare recently with updated information on exam preparation strategy. You can view the presentation:
https://www.slideshare.net/abhish45/iiba-ecba-certification-exam-preparation-strategy/
About Techcanvass
Techcanvass offers IT certification courses for professionals. We are an IIBA endorsed education provider (EEP), iSQI ATP (for Certified Agile Business Analyst Training) as well as Agile Testing alliance partner for CP-SAT certification training in Selenium.
We have a Business analyst training course with domain training in-built into it. This training program offers you the opportunity to get certified with ECBA certification as well as have banking domain understanding.