Business Analyst roles and responsibilities
In this article, I am going to discuss about business analyst role and responsibilities. Entry level business analysts have different responsibilities as compared to senior business analysts. In this post, I am going to talk about entry level business analyst role.
In one of the next posts, I will talk about senior business analyst roles and responsibilities.
Business analyst term is used to refer to two distinct profiles and that is often confusing for many. In general, the IT industry is using the term Business Analyst to refer to:
IT business Analyst or Systems Analyst: We are going to discuss about this role in the article
Business Analyst / Data analyst / Analytics professionals / data scientists – This role is different than the IT business analyst, even though there are similarities.
It's pertinent to explain what is business analysis so that we can understand the role of an IT business analyst in the right context.
What is business Analysis and who is a business analyst?
International Institute of Business Analysis (IIBA)¬ defines business analysis as follows:
Business Analysis is the practice of enabling change in an  organizational context, by defining needs and recommending solutions that deliver value to stakeholders.
This formal definition leads to the following diagrammatic representation of "What is business analysis".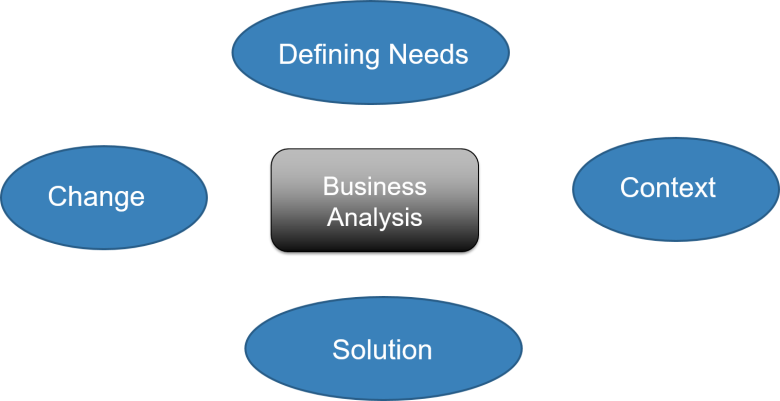 So business analysis is all about solving a business problem/need using the organizational context and transitioning the organization through the change (implementing the solution).
So, who is a business analyst?
A business analyst is a professional who performs one or all of the business analysis functions. He or she may not get involved with all the functions, defined as business analysis functions
A business analyst, in general, is agnostic of the method/techniques used to solve a business need/problem. He/she may use statistical models, machine learning or software development methodologies to achieve the end goal.
This is one of the reasons why there is a wide spread use of the business analyst in multiple contexts. In this article, we are going to focus on IT business analyst only.
Role of an IT business analyst
An IT business analyst works with customer as well as technology team on a day-to-day basis. The diagram below shows high-level view of an IT business analyst role: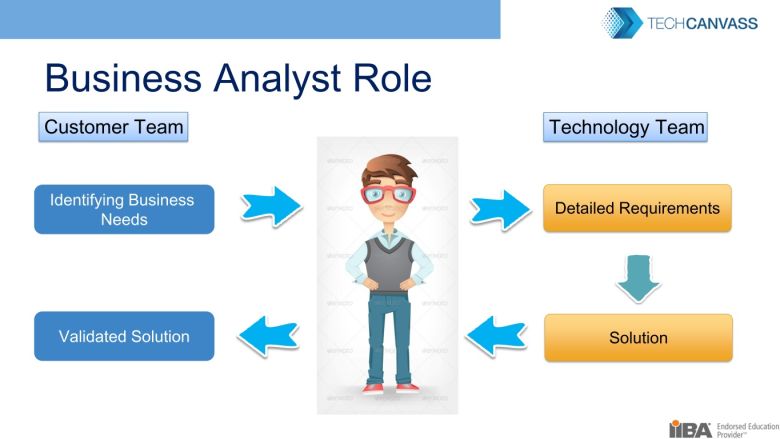 Here is the summary of the role of an IT business analyst:
To interact with customer to understand their requirements
To convert the business requirements into detailed technical requirements for technology team
To co-ordinate with the technology team to explain the requirements
To validate the developed solution before handing over to the customer for User Acceptance Testing (UAT)
To co-ordinate with the customer team and the technology team to facilitate UAT
So, what does it translate to? What are the typical responsibilities of a business analyst on a day to day basis? Let's discuss them in the next section.
Business Analyst's Responsibilities
A business analyst will be performing one or more of the activities on a day to day basis: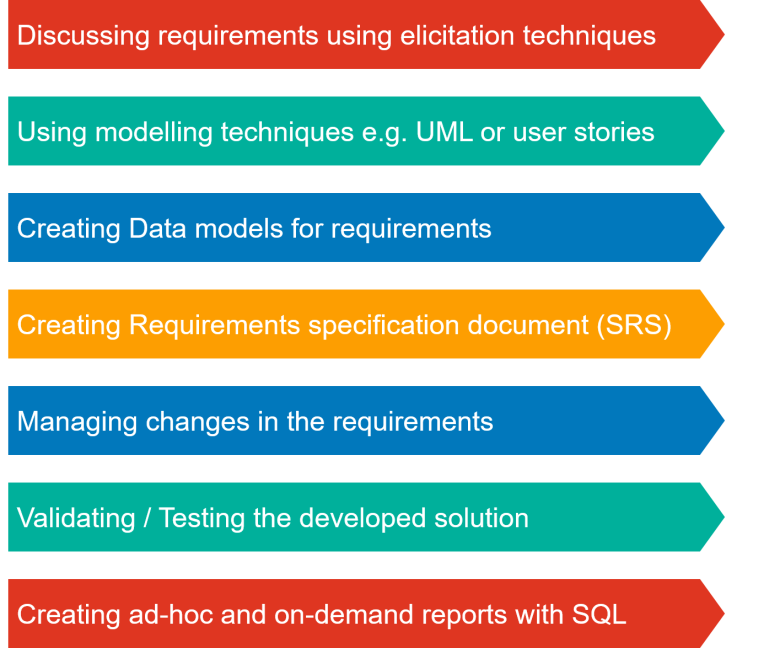 These activities are the primary responsibility areas for an entry level business analyst. He/she may not be doing all of them every day. The activities differ based on the stage of the project. Let's consider these scenarios:
Changes in existing requirements
In case of changes in the existing system (already in use by the customer), a business analyst has the following responsibiliites:
Understand and document the requirements -> Create the specifications document -> work with technology team to assess the impact of the change (Effort, cost etc) -> Seek customer approval -> Validate the developed solution -> co-ordinate the UAT
New Project
A new project is completely different from the ongoing project. In case of a new project, a business analyst's responsibilities are as follows:
Understand and document the requirements -> Create prototype model -> Create UML or similar model ->  Develop data model -> Prepare system requirements specifications (SRS) document -> Co-ordinate with technology team to design and develop the solution Validate the developed solution -> co-ordinate the UAT.
To summarize, business analysts play an intermediary role between the customer team and the technology team to ensure that right software is developed for the customer.
About Techcanvass
Techcanvass is an IT certifications training academy offering courses in Data Science, Business Analysis and Automation testing.
We are an IIBA Endorsed education provider (EEP) and iSQI authorized training partner. Our business analyst courses are for all the levels as shown below: