CCBA vs CBAP – A detailed comparison of these two certifications. Which one should you choose?
For instance, CBAP and CCBA are two of the most prestigious Business Analysis certifications awarded by the International Institute of Business Analysis (IIBA), Canada. In this article, we are going in order to have a detailed comparison of CCBA Vs CBAP and how to decide the right certification?
When it comes to deciding between these two certifications, you need to consider the following:
Are you eligible for the certification, as CCBA and CBAP differ in eligibility criteria?
If yes, do you have the time and determination in order to go for CBAP, the Gold standard for

Business Analysis certification
In this article, we are going to see the differences from the following perspectives:
Eligibility Criteria
Exam Pattern and Complexity
Certification and Exam Fees
Brand Value
CCBA vs CBAP – Important Differences
Let us look at the key differences between CBAP and CCBA.
Eligibility Criteria
The eligibility criteria are different for these two certifications. The difference is shown below in the table: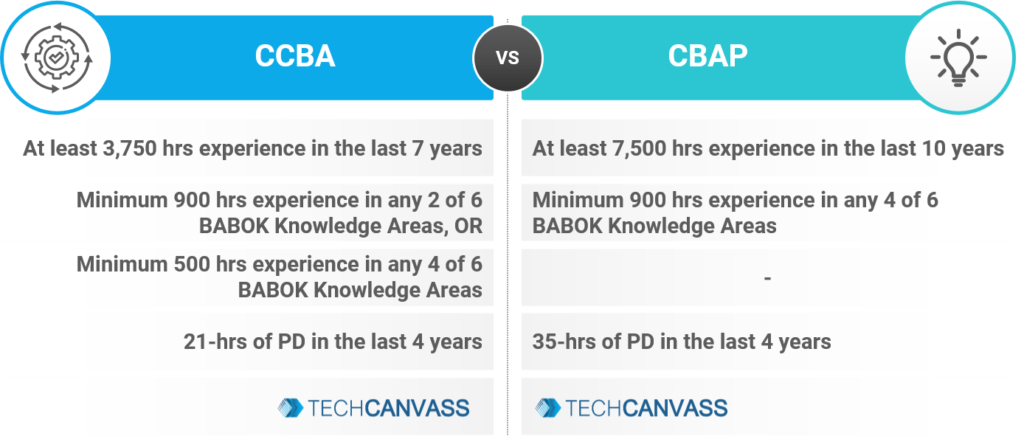 How do the hours get calculated? Here is a calculation example.
Note: This calculation is conservative and should work in most scenarios.
Number of working hours per day – 7 hrs
The Number of days in a week – 5
Number of working days per month – 22
So, the number of hours per month = 154. Please note that you cannot count all the hours towards Business Analysis work. I would recommend that you consider around 60-65% towards business analysis work.
As a professional, you participate in activities that may not consider as Business Analysis. For example, creating status reports, participating in meetings not related to a project or customer.
Simply speaking, As a result, you need 3-3.5 years of Business Analysis experience for CCBA and 5+ of experience for CBAP Certification.
Exam Pattern and Syllabus
Are there any differences in the syllabus and the exam pattern? Business Analysis Body of Knowledge (BABOK) is the primary reference book for CCBA and CBAP. However, there are differences in the coverage as shown below: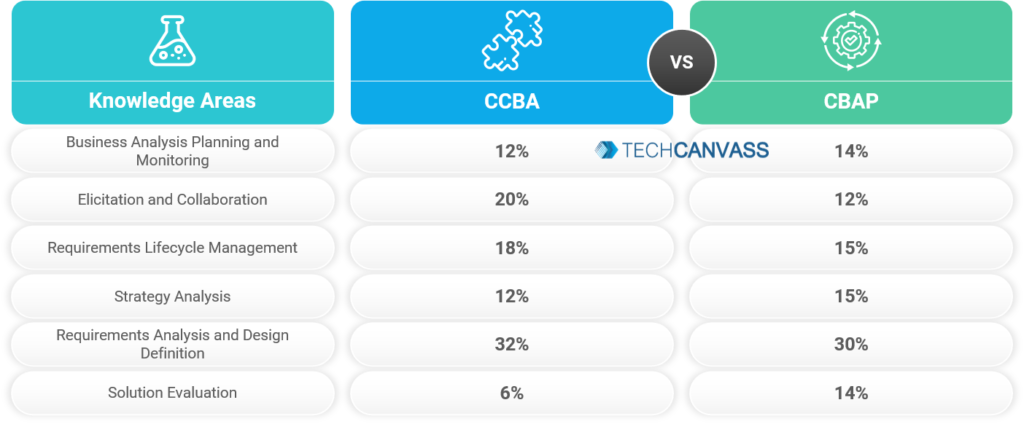 The exam pattern differs for CCBA and CBAP. CCBA exam has 130 questions whereas the CBAP exam has 120 questions. Here is a snapshot of differences: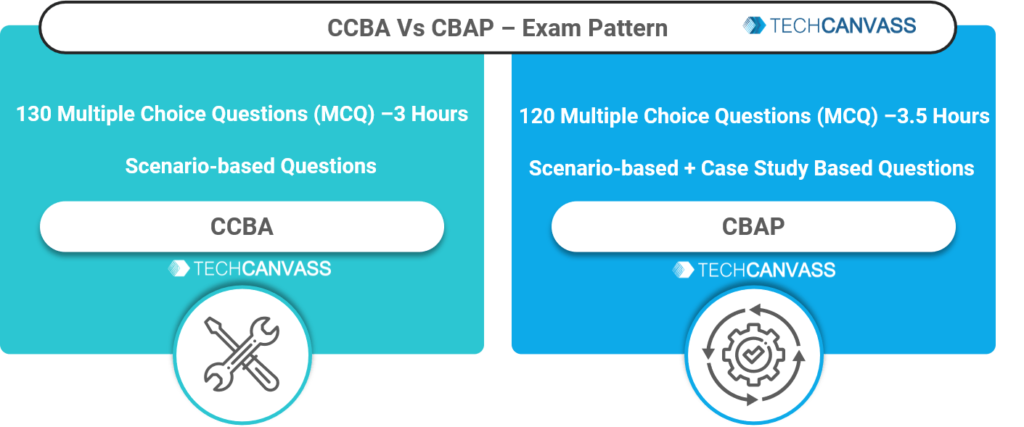 IIBA Membership and Exam Fees
Since, The CBAP and CCBA Certifications comprise membership, application, and exam fees. Here is a breakdown of these charges: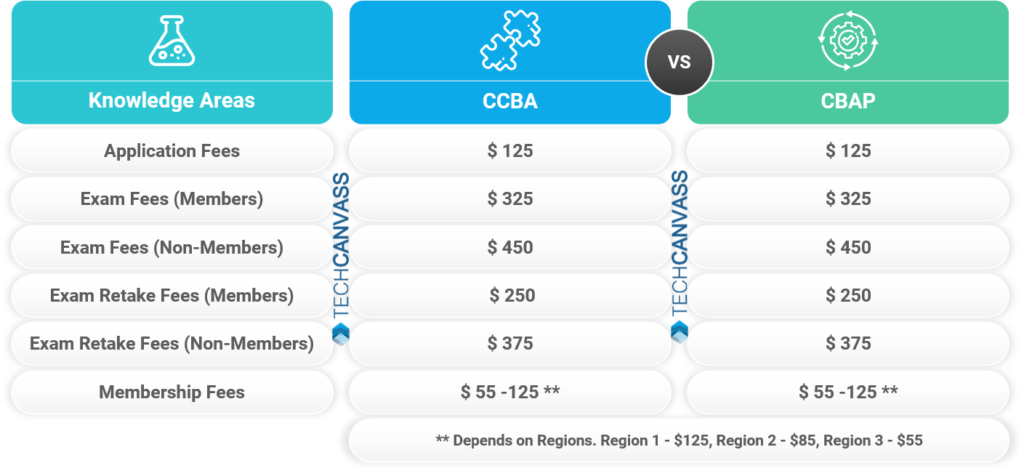 CCBA Vs CBAP – Brand Value and Recognition
CBAP is undoubtedly the most recognized and valued Business Analysis Certification. It is also the most respected certification for two reasons:
Clearing CBAP needs diversity and depth of Business Analysis knowledge
It is backed and supported by International Institute of Business Analysis (IIBA)
The choice is clear. If you are eligible for CBAP certification, do take the extra effort in order to go for CBAP certification.
If you do not meet the eligibility criteria, you can choose in order to go for CCBA as it adds value to your profile and provides confidence as it is always in the IIBA Salary Survey.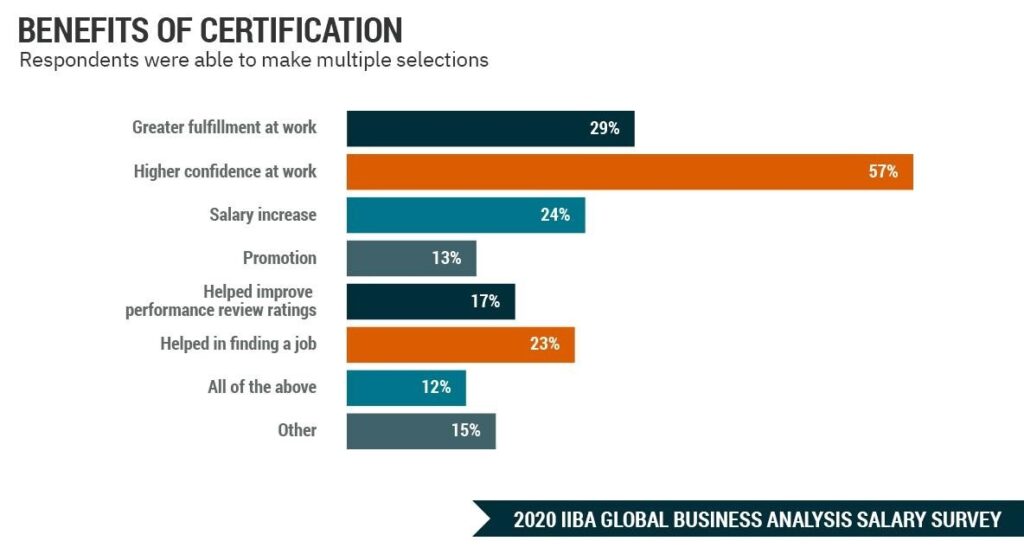 About Techcanvass
Techcanvass offers IT certification courses for professionals. We are an IIBA endorsed education provider (EEP), iSQI ATP (for Certified Agile Business Analyst Training) as well as an Agile Testing alliance partner for CP-SAT certification training in Selenium.
You can check out our CBAP Training course and CCBA Training Course.