In this article, I am going to discuss and explain the ECBA certification preparation strategy. You need to crack an online test to get the ECBA certification, so how do you prepare for the ECBA certification?
ECBA certification exam is based on IIBA BABOK Guide version 3. This book is big and can be intimidating for many especially if you are new to business analysis. So I decided to enable every ECBA certification aspirant. the motive was to adopt an efficient approach to the preparation. Before we discuss the strategy for cracking the ECBA exam. let's understand the BABOK guide (This is the book on which the ECBA certification exam is based).
Join our ECBA Certification Training program to become a business analyst.
BABOK Guide Structure
The Business analysis body of knowledge (BABOK) guide has multiple sections. The map of the section is shown below: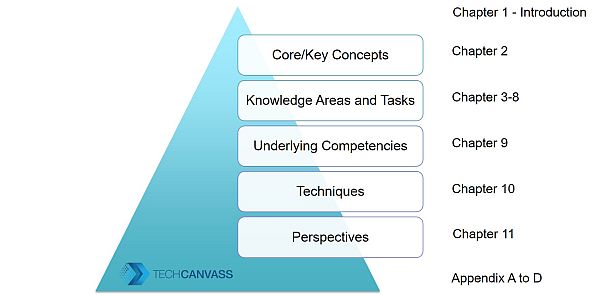 It's a well-structured and researched book, however a very difficult book to understand. The good news is that from an ECBA certification preparation standpoint, you don't need to go through the entire content.
The scope for ECBA certification is limited. That makes your task easier. So, what's the scope for you? We are going to discuss that in the next section.
ECBA Certification Syllabus
IIBA has changed the ECBA Syllabus from 2021. Three of the six knowledge areas have a 65% weightage from the certification exam perspective. Hence, The next important part is the Techniques section, which has 17.5% weightage.
As a result, The good news is that you can skip two of the knowledge areas completely as these have 0% weight. See the table below:
| | | |
| --- | --- | --- |
| BABOK GUIDE KNOWLEDGE AREAS | CURRENT | NEW |
| Business Analysis Planning and Monitoring | 5% | 5% |
| Elicitation & Collaboration | 20% | 20% |
| Requirements Life Cycle Management | 20% | 20% |
| Strategy Analysis | 5% | 0% |
| Requirements Analysis and Design Definition | 24% | 25% |
| Solution Evaluation | 1% | 0% |
| TOTAL | 75% | 70% |
| | | |
| --- | --- | --- |
| BABOK GUIDE BUSINESS ANALYSIS KNOWLEDGE | CURRENT | NEW |
| Business Analysis and BA Professional | 2.5% | 2.5% |
| Underlying Competencies | 5% | 5% |
| Business Analysis key concepts | 5% | 5% |
| Techniques | 12.5% | 17.5% |
| TOTAL | 25% | 30% |
You can know more about the ECBA Exam syllabus update for 2021 by IIBA.
ECBA Preparation Strategy
ECBA Certification exam is a multiple-choice examination. It will have 50 questions and the time allotted is 1 hour. You can follow the following steps to prepare for the ECBA certification examination:
Step 1: Plan for Meeting Eligibility Criteria
Assuming you are new to business analysis. you should also try and understand what is business analysis. how does it work? What is the role of a Business Analyst? how does a business analyst do in Waterfall & Agile Projects? What are the formal Business analysis skills?
As a result, This is important as this will help you in relating to the BABOK guide better. for instance, ECBA certification needs you to acquire 21 hrs of CDUs. you need to join an IIBA EEP. The EEPs should be able to cover these topics. Techcanvass is one such IIBA EEP.
Step 2: Get the BABOK Guide and Study
For instance, the ECBA Certification exam has a well-defined focus. It also means that you must go through BABOK's latest version. The best way to understand the BABOK is to have completed Step 1 or to do it along with Step 1.
Note: As mentioned in this article above, you can be selective in reading BABOK and focus on the 3 knowledge areas with the highest weightage.
Step 3: Practice Chapter-wise Tests
This is also an important aspect of your preparation. Start by taking Knowledge area/chapter-wise tests. This will allow you in order to assess your understanding of each chapter. For instance, You can start with the key concepts chapter. Our question bank has a large number of these questions.
Reporting: Our question bank simulator also has comprehensive reporting. It helps you in order to analyze each test with detailed answers. It also allows you to know your overall performance anytime.
Once you are able to do well (target 70% score), go for the full-length tests.
Step 4: Practice Full-length tests
In our ECBA Question bank, we have multiple full-length tests (up to 7 tests). These are in addition to the chapter-wise tests as mentioned in the previous step. Overall, we have more than 1000+ questions in our question bank.
Conditioning: Take the full-length test informal environment so that you are also prepared mentally for the actual exam. Visit our ECBA Question bank page to know more about the questions.
Further Reading
Read about some practical ECBA Exam tips based on inputs from ECBA certified professionals and our experts.
ECBA Exam Tips
About Techcanvass
Techcanvass offers IT certification courses for professionals. We are an IIBA endorsed education provider (EEP), iSQI ATP. (for Certified Agile Business Analyst Training) as well as Agile Testing alliance partner for CP-SAT certification training in Selenium.