International Institute for Business Analysis (IIBA) offers the certification for Agile Business Analysis (AAC). This certification addresses both necessity and demand for agile and analyst communities to collaborate and transform project delivery.
In this article, I am going to provide all the details about the AAC Certification.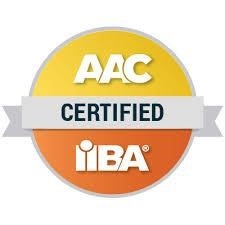 The certification is also based on the candidate's understanding of business Analysis in an agile context. It is also based on the guide released by IIBA 'Agile Extension to the BABOK Guide v2' which is extension to BABOK v3.
The urgency for improved products and services in order to market quickly, effective analysis continues to be a challenge.
for instance, With Agile as a new normal now, most of the IT and/or non-IT projects development and releases are from agile perspective. Companies have also started adopting Agile into their business to get maximum value. IIBA-AAC certification strengthens Business Analysis practitioner's skillset and expertise.
The certification also recognizes the competencies of BA professionals with two to three years of experience executing analysis-related work in an agile context.
Although there are no criteria for the candidate for the certification exam, but basic understanding of Agile and Business Analysis is a minimum expectation.
This certification will certainly helps in
for instance, Elevating the career in Business Analysis in Agile environments
Augmenting the business analysis skill set and expertise
Staying up-to-date on best practices and industry trends
AAC Certification Eligibility
No mandatory eligibility
Recommendation by IIBA: 2-3 years of experience as a Business Analyst
Exam Format: 85 questions to be done in 2 hours
AAC Exam Syllabus
The IIBA®-AAC exam is aligned to the following four domains and consists of 85 multiple-choice, scenario-based questions to be completed within 2 hours.
Agile Mindset – 30%
Strategy Horizon – 10%
Initiative Horizon – 25%
Delivery Horizon – 35%
Check out AAC Certification Sample Questions.
AAC Exam Fees

The candidate can also recertify after a year with below mentioned fees.

* All amounts are in USD currency.
The Candidate can choose to appear for the certification exam either as a member or a non-member and based on the region you belong to.

Country details for the Region details here.
REGION
Region1:
Australia, Austria, Bahamas, Belgium, Canada, Denmark, Finland, France, Germany, Greenland and more…
Region2:
Albania, Algeria, American Samoa, Andorra, Angola, Antigua and Barbuda, Armenia, Aruba, Barbados, Belize, Bermuda, Bosnia and Herzegovina, Brazil, Brunei Darussalam, Cameroon, Cape Verde, Cayman Islands and more…
Region3:
Argentina, Azerbaijan, Bahrain, Bangladesh, Belarus, Benin, Bhutan, Bolivia, Botswana, Bouvet Island, British Indian, Ocean Terr, Bulgaria, Burkina Faso, Burundi, Cambodia, Chad, China, India and more..
What's Next: Seven principles of Agile Business Analysis
About Techcanvass
Techcanvass offers Project Management, Business Analysis and Analytics certification courses for professionals. We are a PMI Premier Authorized Training partner (ATP), Premier IIBA endorsed education provider (EEP) and iSQI Germany Authorized Training Partner.
You can know more about Agile Analysis Certification course and newly launched Product Ownership Certification (CPOA) Prep Training programs.