Business Analysts play an important role in IT projects. They need to learn various skills. But why Data visualization? In this article, I am going to examine Why do Business Analysts need to learn Data visualization skills?
John Naisbitt, a futurologist, said
"We are drowning in information, but starving for knowledge."
The context
This report suggests that, in 2020, the job requirements for data science and analytics is projected to boom to by 364,000 openings to 2,720,000. PwC predicts that Employers will look mostly for business people with analytics skills, not just analysts.
There is enough evidence that analytics skills are going to be in great demand.
As Business Analysts, you collaborate with decision-makers and other stakeholders in addressing business needs. Be it through a process automation or Data science/Analytics solutions.
To be able to work on Data science/Analytics solutions, you need to upskill yourself with requisite skills.
Data visualization is a necessary skill used for converting data into actionable visual representations. Business Analysts can use data visualization skills to help the stakeholders understand the data and make informed decisions to address their needs.
Data Visualization and Business Analysts
Business Analysts use visual models to model requirements, process flows, sequential flows, and even screen designs. Visual modeling is part and parcel of every business analyst's day-to-day work. As a BA, we also understand the importance of visualization as it helps in understanding things better.
How are Data science/Analytics solutions different from other projects. These projects solve business problems by analyzing and mining data from multiple sources and help customers make sense of the data.
As a Business Analyst, you must understand the nuisances of these processes to perform your role as a BA in these projects.
Let's look at two scenarios of how Business Analysts use data visualization to significant effect.
Data Visualization in Data Wrangling
An article in a 2018 Harvard Business Review said:
If Your Data Is Bad, Your Machine Learning Tools Are Useless.
Data is sourced from multiple sources and requires a significant amount of work. An article in the New York Times (nytimes.com), Steve Lohr points out:
Data scientists, according to interviews and expert estimates, spend from 50 percent to 80 percent of their time in data cleaning/munging/wrangling activities. It is an essential part of data science projects. Data visualization can be used to compare pre-cleaning and post-cleaning to help cleaning out outliers and such anomalies.
Business Analysts can help data scientists in this highly time-consuming activity. Visualizations help in finding out
Outliers which can affect the trends
Overall health of data
Read this ultimate guide on data cleaning to understand data cleaning and its value.
Storytelling through Data visualization
Data visualization expert Stephen Few said:
Numbers have an important story to tell. They rely on you to give them a clear and convincing voice.
Storytelling has many elements, and one of them is visualizations. A story becomes insightful when visualizations are applied to Data. It tells a story on what's happening and why a particular insight or interpretation is essential in addressing the business needs or solving a problem?
Lets look at a very simple example of story telling. As a Business Analyst, we can produce basic visualizations as shown below: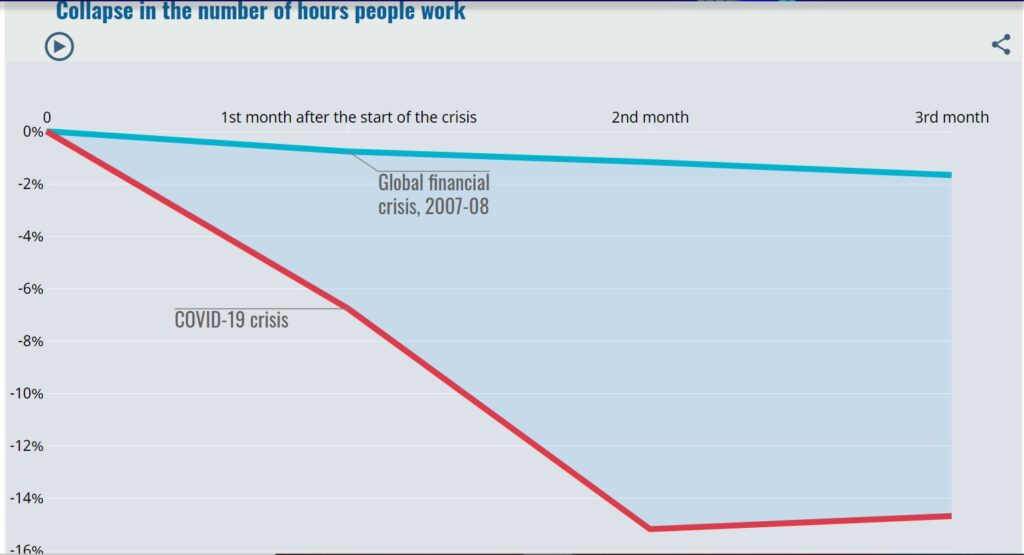 For most, it will not be easy to interpret and understand the chart. However, if we say – The impact on jobs has been 10 times bigger than that of the global financial crisis, does it make an impact? Certainly it does. That's the power of story telling using data.
As a Business analyst, you can collaborate with the Data scientists to create compelling and insightful data stories to present actionable insights.
You can learn more about Business Analysis and Analytics at our Blog.
About Techcanvass
Techcanvass offers Business Analysis and Analytics certification courses for professionals. We are an IIBA endorsed education provider (EEP) and iSQI Germany Authorized Training Partner.
Know more about our Tableau Certification program, PowerBI certification program, Data Analytics Certification with Excel programs.
We also offer IIBA Certification courses and Domain Certification Courses in Banking, Payments, Trade Finance, Insurance and US Healthcare.